Sometimes I post images to a group on RedBubble called "Disability & Beauty". Never have I been so keenly aware of WHY I post to that particular group as when I shot this and numerous other images in the beautiful tulip fields in La Conner, WA. I am thankful for the opportunity I had to shoot there – for my husband who watched the kids for 9.5 hours that day, and my fellow photographer friend Sandra who accompanied me – but it really took its toll on me physically. Walking tulip fields and crouching down for 3-4 hours to get the perfect shot is so difficult for someone with inflammatory arthritis, even when that arthritis is "relatively well under control". I'm thankful that I had the ability to take these images, as prior to my diagnosis that would not have been the case; but I dedicate this image to everyone who struggles to create their beautiful photographs and pays a physical price for it. If we did not love it so much, we wouldn't do it, because there's no way that something that takes such a toll would be worth it if not for the love of the art
See other photos of the tulips and daffodils in this region in my Tulip & Daffodil Fields set.
Mt. Vernon, Washington, USA
Also available in four different greeting cards:
Comfort of Christ: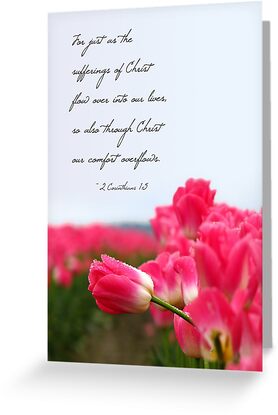 Bent by our burdens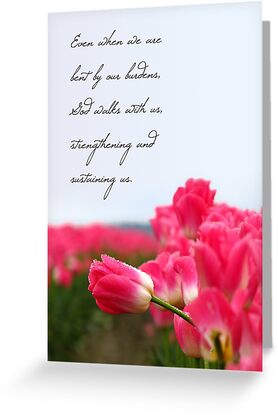 "My grace is sufficient for you"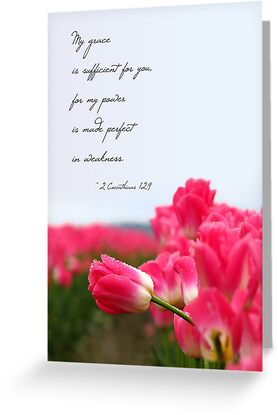 Gift of a mother's love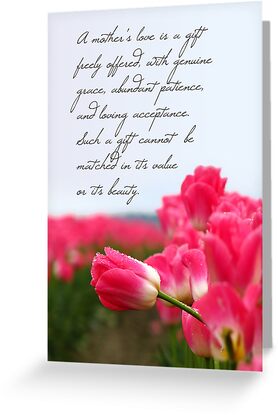 Photo taken courtesy of Washington Bulb Co., Inc.
This image also appears in a Floral & Foliage Calendar.
Also available as an iPhone case:

Featured in Pretty in Pink (December 22, 2013)