HomePage Feature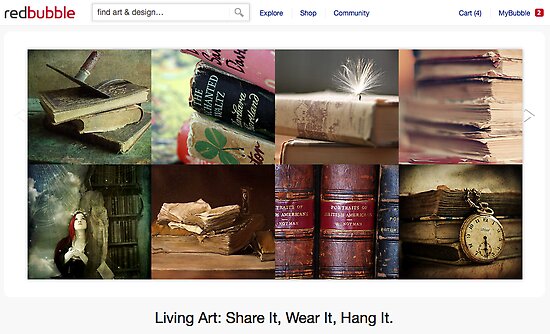 "Without books the development of civilization would have been impossible. They are the engines of change, windows on the world, "Lighthouses" as the poet said "erected in the sea of time." They are companions, teachers,magicians, bankers of the treasures of the mind, Books are humanity in print."
~Arthur Schopenhauer
Primitive Design
Shot in my mother-in-law's home.
Northport, New York
Thank you to the hosts of all my groups for your tremendous
support, and hard work. It is evident in the work submitted,
and featured. I truly appreciate the effort put into hosting
so that we have beautiful places to display our art.
Featured in
The World As We See It March 2011
ImageWriting March 2011
Representational Digital Art March 2011
Inspired Art March 2011
Story Through Image March 2011
RB Feature Explore Page 3/29/11
Visual Texture April 2011
Equisition April 2011
Art Universe April 2011
Nostalgic Art and Photography April 2011
Cottage Living April 2011
High quality Images April 2011
The Woman Photographer May 2011
Friends of RedBubble May 2011
The Art of Still Life May 2011
Tools June 2011
RB Homepage Feature Aug, 20, 2011
Vanitas Still Life Sept 2011
All About New York State Sept 2011
Peace Love Tranquility Feb 2012
Truly the Best Feb 2012
Creative Images Feb 2012
Creative Talented and Unknown Feb 2012
Artistic Still Life Feb 2012
Your Indoor Living Space April 2012
First Things May 2012
Life in the City, Suburbs May 2012
Grunge it Up July 2012
Still Life Photography Aug 2012
Tuesday Afternoon Aug 2012
Moody & Evocative Aug 2012
The Breakfast Club Aug 2012
Old Things are Vintage March 2013
The Group March 2013
Everyday Women May 2013
Still Life Fine Art and Food July 2013
! 100% ! July 2013
Country Living July 2013
breaking the boundaries July 2013
! Inspired Art ! Oct 2013
International Women's Photography Oct 2013
REDBUBBLE BOOMERS May 2014
Everything Old a New Treasure June 2014
edited in PS CS 5
textures by Shadowhouse Creations
Ist place Challenge Winner
Books
JPG Cast-offs May 2011
BOOKS
If It Doesn't Belong April 2012
Artistic Still Lifes in Green
Green Artistry June 2012
Live, Love, Dream April 2014
Top Ten Challenge Winner
Features 3/27/11
Story through Image April 2011
Time May 2011
Art Universe
Layers and Textures… Still Life…
Featured For A Challenge Sept 2011
Nostalgic Still life
Nostalgic Photography Dec 2011
The Vibration of Still Life
Vibration in Art March 2012
Group Avatar
Layered Up March 2012
Books
IF IT DOESN'T BELONG Sept 2012
Vintage Still Life
Artistic Still Life Sept 2012
Vintage Still life
New To Vintage Sept 2012
Textures Challenge
The Power Of Photography Dec 2012
Sold 8 cards!