Featured in Flowering Bulbs http://www.redbubble.com/groups/flowering-bulbs-no-insects-or-text Group on 10/19/11
Featured in Tulips http://www.redbubble.com/groups/tulips Group on 10/25/11
Featured in The Power of Photography http://www.redbubble.com/groups/the-power-of-photography Group on 10/31/11
Featured in Color Me A Rainbow http://www.redbubble.com/groups/color-me-a-rainbow Group on 11/21/11
Featured in All Glorious Lillies http://www.redbubble.com/groups/glorious-lilies Group on 03/18/12
Featured in Featured for a Challenge http://www.redbubble.com/groups/featured-for-a-challenge Group on 04/26/12
Featured in #1 Favourites http://www.redbubble.com/groups/amazing-landscape-winners Group on 08/01/12
Featured in Just for You Dedications http://www.redbubble.com/groups/just-for-you Group on 07/28/13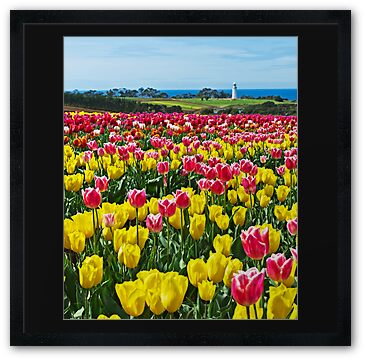 Dedicated to the folk at Table Cape Tulip Farm. This shot is looking over rows of tulips to the lighthouse and the coast of Bass Strait near Wynyard on the North West Coast of Tasmania.
Taken with Pentax k-r on 7 October 2011 at Table Cape, Tasmania.
Lens Pentax-DA 18-55mm F3.5-5.6
ISO 200
35.0mm
0 EV
f/8
1/400 sec.
RAW
Hand held
Minor adjustments to lighting and image converted to JPEG for uploading.