Things get a little squashed at the launch site of the March 2011 Balloon Festival in Canberra, ACT, Australia.
By sunrise, dozens of balloons were getting ready to fly from the grassy forecourt of the old parliament house building flanked by the treasury and administration buildings.
Taken with Panasonic Lumix DMC-FH1 point & shoot.
Featured 03/21/11 in Cee's Fun Artsy Friends http://www.redbubble.com/groups/cees-fun-artsy-friends-3-per-day Group
Featured 04/06/11 in Point, Shoot & Don't Alter http://www.redbubble.com/groups/the-not-so-fine-art-of-photography Group
Featured 04/16/11 in Rainbow http://www.redbubble.com/groups/rainbow Group
Top Ten in Cee's Fun Artsy Friends http://www.redbubble.com/groups/cees-fun-artsy-friends-3-per-day/challenges/33362-kites-flags-and-man-made-items-that-fly#all-entries Challenge
Tope Ten in Pouts, Portraits and Poses http://www.redbubble.com/groups/pouts-poses-and-portraits/challenges/35097-people-and-balloons Challenge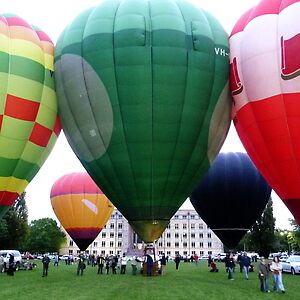 Two's Company, Three's A Crowd at the Balloon Festival
by TonyCrehan