Taken with Panasonic Lumix DMC-FH1 point & shoot.
147 views as at 20th May 2011.
Featured 01/31/11 in All Thing Brighton Beautiful http://www.redbubble.com/groups/all-things-brighton-beautiful Group
Top Ten in World-wide Sunsets http://www.redbubble.com/groups/world-wide-sunsets/challenges/39038-city-sunsets-members-only Challenge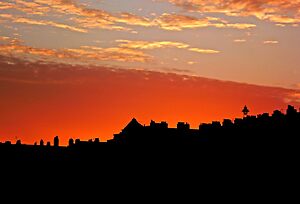 Sunset Over The Rooftops at Hove
by TonyCrehan
Sunset over silhouette of Hove rooftops and chimneys viewed from Brighton Beach.
One of my sons lives here as I did more than 50 years ago, so I now like to call it my second home.