I have been a photographer ever since I got my hands on my dad's camera in the 50's. My father allowed me to turn our furnace room into a B&W darkroom and, with that, I was in business.
My role as a photographer for high school started my interest in photojournalism. My boredom with counselling psychology in the 1980's drove me to find an, albeit part-time, career in photojournalism for a variety of Vancouver, BC publications.
My introduction to workplace, trauma psychology perked my intersest in applied psychology again distracting me from photography until 2006.
With my return to photography, my initial focus was photojournalism as strong interest in art photography (this web page). I continue with a strong focus on photojournalism, covering local events for provincial and national publications, but have evolved into a generalist. My work now also includes product photography, portraits, and architecture.
Last year I started a blog sharing various photographic techniques. Follow me at blog".
I enjoy painting with photography. High Dynamic Range photography, the Ansel Adams technique of digital photography, is one way to accomplish this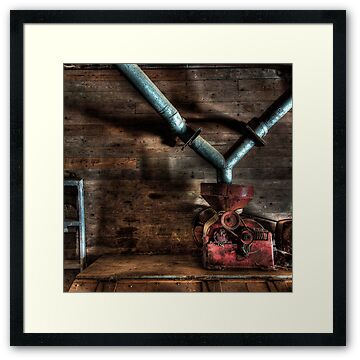 In this case, it took five differently exposed images of the same scene to create this image.
Currently my work is hanging and for sale in the following locations:
Redbubble, at this location or on my Redbubble Site
Mayne Island:
Trading Post, En-Visage Gallery, Sunny Mayne Bakery
Saturna Island:
Boot Cove Books, Saturna Pub
Images can be purchased from Redbubble" or by visiting my web page or calling me on Mayne Island: 250 539 2123
Thanks for the interest in my photography.
Critiquing welcomed