Software used: – Photoshop.
LAYERS, BLENDS, TEXTURES, FILTERS AND BRUSHWORK.
Camera used: Canon 500D
Photographs used are my own .
… It's invisible but sure it moved…
Cat Snowy ,playing in the grass , catching anything and everything that moved…
This image tells the story of , what happened after – An unexpected defeat.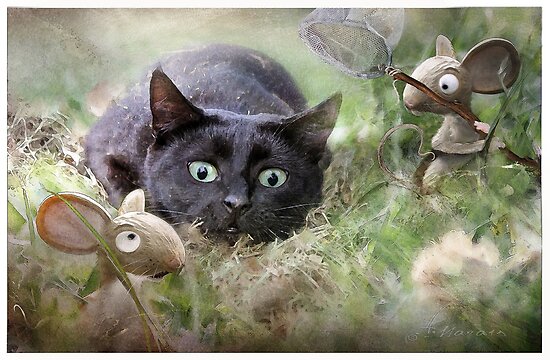 Combined different images of the cat ,duplicated grass for texture in top and added the two mice .The mouse is an ornament from J.DONALDSON / A SCHEFFLER.
Finished with added images of leaves , with brushwork for detail ,textures , layer blends and filters from Photoshop.
Texture By Lenabem-Ann- flickr.com
http://farm8.staticflickr.com/7008/6702021929_9...