Under construction – nearing completion (August 2010).
The "Double Helix Bridge" provides pedestrian access to the Sands Integrated Resort at Marina Bay in Singapore.
The hotel part of the the resort comprises three towers featuring a SkyDeck spanning across the top of the towers. The SkyDeck incorporates a viewing deck, a roof-top garden and a 150m swimming pool (named "Infinity Pool") all overlooking the city of Singapore some 200m below.
The resort also includes a large elite shopping mall, a casino and a museum. The museum is the "Flower" shaped building in the foreground (RHS) and is still under construction at the time this photograph was taken.
The following photograph was taken from the viewing deck on the SkyDeck:


or here
Canon EOS450D, Canon EF-S 18-55mm f/3.5-5.6.
507 viewings to 13 Apr 2012.
This work was voted in the challenge: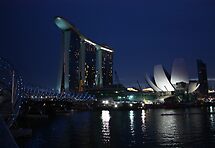 in the group: Construction and Demolished

This work was voted one of the Top Ten in the challenge: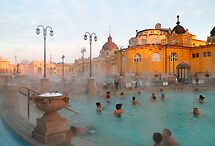 in the group: Favourite PLACES You Take,Make or Paint