As you sit on the hillside, or lie prone under the trees of the forest, or sprawl wet-legged by a mountain stream, the great door that does not look like a door, opens. ~Stephen Graham, The Gentle Art of Tramping
In November, 2010, Homer and I decided to drive up into Pisgah National Forest here in Western North Carolina to see if we could catch some late Fall shots. Almost all of the leaves were off the trees so we were disappointed that we had missed the best of Fall in this area. But as we drove up a bumpy gravel road far up into the forest, we discovered a small area that seemed separate and magical, filled with Fall colors. It was so beautiful that we stopped often to take pictures and just enjoy the silence broken only by a mild breeze through the golden leaves. We spotted an unusual rock formation that looked like it had an eye looking out into the forest. I told Homer it was the guardian of the forest. While playing with this photo, I added four crows from another picture and a texture of my own of a window shade with branches silhouetted against it.
Taken with a Panasonic Lumix 12x zoom compact digital camera. Textures added in PhotoShop.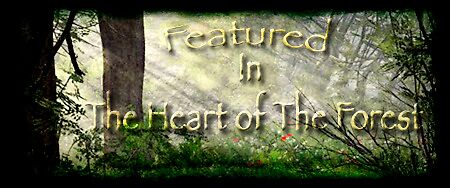 – July, 2011!