I've been looking through older photos and found this one of some dairy cows looking me as I took their picture out the car window. It was always so wonderful seeing these beautiful cows every time we rode by. Unfortunately, the dairy where these cows lived was sold for a high-end golf course development. The company who purchased it went bankrupt so nature has now reclaimed the entire area. Coyotes and foxes roam where the cows used to graze. After adding a layer of one of my textures of clouds, I liked the feeling that the cows were dreaming of greener pastures.
Taken near Penrose, North Carolina, 2006 in Western North Carolina.
FEATURED IN THE RURAL AROUND THE GLOBE GROUP – JUNE 19, 2009.
FEATURED IN COUNTRY BUMPKIN – June 20, 2009!
FEATURED IN SOUTHERN STYLE-A DOWNHOME PERSPECTIVE, June, 2009!
TOP TEN FINISH IN THE BUBBLER'S WEEKLY CHALLENGE -JULY 1, 2009!
FEATURED IN THE BUBBLER'S GROUP JULY 3, 2009!
FEATURED IN THE SOUTHERN UNITED STATES ARTISTS GROUP – November 10, 2009!
FEATURED IN THE COMPACT GROUP – JANUARY 15, 2010!
– September, 2011.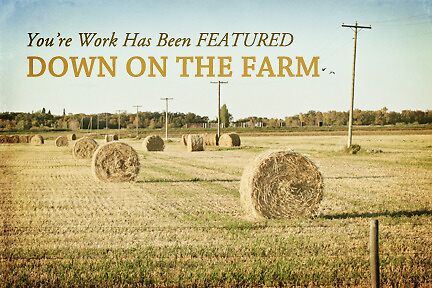 – February, 2012!