A Spooktacular Instagram Challenge!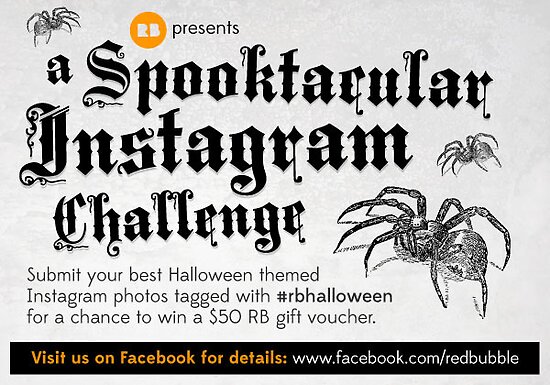 Attention, ghouls and boos. Halloween is nigh upon us and we'd be delighted if you would share your best Halloween photos with us, taken and shared through the wonderful medium that is Instagram. Be they scary, spooky, cute, or fun – get them to us in just three easy steps: point and click your smartphone, edit as you see fit, and tag with #rbhalloween. This will make it automagically appear on the Redbubble Facebook page. Download Instagram here for iPhone and here for Android if you don't already have it.
Enter as many times as you wish, with as many different styles and themes as you wish. The beauty of Instagram is that you can radically change the look of your photos to achieve different effects by using the app's bult-in filters: black and white, fish eye, sepia-toned, blurred, fuzzy, washed-out, and many more. Here are some suggested categories/themes to get you inspired: best costumes, haunted house or landscape edited with Walden, scary pumpkin carvings, skeletons, graveyards and spider webs in black & white (use Inkwell), zombie, scary statues, black cats and birds, trick or treat, create a scary movie poster with title, self-portrait – ghoul or devil, horror movie.
We'll select an entry each day of the challenge until October 31st to win a $50 Redbubble voucher.. But in the meantime, we can be spooked, scared, amazed, and entertained by each other's photo submissions on our Facebook page. Go there to see them all and vote for your favorites.


Works by Kevin Bergen, emotionalorphan, fotowagner, JUSTART, Rebecca Eldridge, the-novice, Dennis Greenhill
See here for official contest rules.