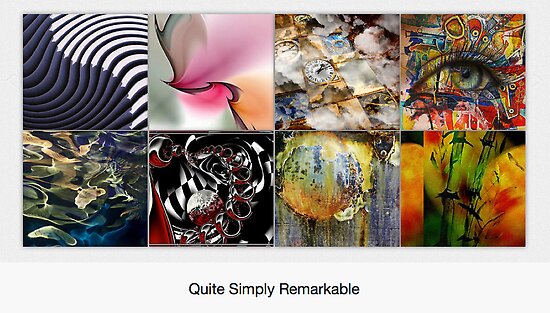 *OVER 2,940 VIEWS AS OF 4/27/12
P>O>V
Not all is as we think we see
Differences are in each reality
What makes it different for you or me?
Why of course its P>O>V
Einstein knew it
And he told it
Reality is dependant upon:
Point of View.
I stand closer to an oject than you
Cannot possibly have a full view
Whilst you who stand far away
Will not see the detail that I may.
~Tammera
Digital Art
Photoshop CS5
Public Domain Image:
Wikimedia.org (Commons):
450px-Imported_Photos_00010
Turgoart
Special thanx to deviantart.com Stock:
Eye STOCK
by ~StinaBG
http://stinabg.deviantart.com/
Work Stats
Created: 2010-07-17
Sales: 6
Comments: 470
Favorites: 189
Views: 2940
FEATURED IN ACCENTUATE THE EYES
FEATURED IN LIVE, LOVE, DREAM
FEATURED IN YELLOW TWO
FEATURED IN THE SILKY TOUCH
FEATURED IN GRAPHIC EDITING 101
FEATURED IN BREAKING THE BOUNDARIES
FEATURED IN THE BEST OF THE RED BUBBLE
FEATURED IN INSPIRED ART
FEATURED IN EVERYTHING BEGINS
FEATURED IN VISUAL TEXTURE
FEATURED IN GRUNGE PHOTOGRAPHY
FEATURED IN ART INSPIRED BY POETRY
FEATURED IN 60'S GLORY
FEATURED IN HEART AND SOUL
FEATURED IN ESCHER AND PERSPECTIVE
FEATURED IN COLLECTIVE COLLAGE
FEATURED IN UNREALISTIC
FEATURED IN SPIRIT AND PSYCHIC PEACE
FEATURED IN TEXTURES UNLIMITED
FEATURED IN BEAUTIFUL MELANCHOLY
FEATURED IN DIGITAL ART COMPILATIONS
FEATURED IN SOLO EXHIBITION
FEATURED IN THE GROUP
FEATURED IN YOUR ACCEPTED
FEATURED IN CREATION
FEATURED IN QUALITY LAYERED WORK AND HDR
FEATURED IN ALL IN EDITING
FEATURED IN ARTISTS UNIVERSE
FEATURED IN THE BEST OF THE REDBUBBLE
FEATURED IN CUTTING EDGE
FEATURED IN ARTISTS UNIVERSE
FEATURED IN SUPERBLY VISUAL
FEATURED IN RAINBOW (PRIMARY COLORS
FEATURED IN A CLASS OF ITS OWN
FEATURED IN ALTERED BY IMAGINATION
FEATURED IN IMAGE WRITITNG
FEATURED IN RETIRED AND HAPPY
FEATURED IN LAYERED UP
FEATURED IN 60'S GLORY
FEATURED IN FANTASY AND MYSTICAL THINGS
FEATURED ARTIST OF THE WEEK IN NEW CREATIONS, THE BEST OF THE BEST
http://www.redbubble.com/groups/new-creations/f...
TOP TEN (4) WINNER IN THE BEST OF THE REBUBBLE DIGITAL ART AND PHOTOGRAPHY CHALLENGE "Abstract Art Challenge"
TOP TEN (2) WINNER IN TOUCHED BY FIRE CHALLENGE "Body Parts"
TOP TEN (5) WINNER IN C.O.R.E. CHALLENGE "Hypothesis"
TOP TEN (4) WINNER IN THE GROUP CHALLENGE "Bring your Best to the Challenge"
TOP TEN (8) WINNER IN FROM THE HEART CHALLENGE "Eyes
TOP TEN (7) WINNER IN CHALLENGE CAFE CHALLENGE "Your Most Viewed WE 03/12/10"
TOP TEN (6) WINNER IN ALTERED BY DESIGN CHALLENGE "Your Most Appreciated Piece ~ $20 Voucher Prize ~"
WINNER IN C.O.R.E. CHALLENGE "Theory of relativity"
WINNER (TIE AT 4 VOTES EACH) IN IMAGES AND IDEAS CHALLENGE "IMAGE & IDEAS BEAUTIFUL BLENDINGS"
WINNER IN ALL IN EDITING CHALLENGE "September – Daily Specials Challenge **** Only if you have a Daily Specials Banner"
WINNER IN CUTTING EDGE (FRINGE SCIENCE) CHALLENGE "The Reality Riddle"
October 2010 Juried Invitational Exhibition!
!