Seven Swans A-Swimming Cards Sold On Zazzle
The Twelve Days of Christmas
Religious symbolism of The Twelve Days of Christmas ….. 7 Swans A-swimming refers to the seven gifts of the Holy Spirit, the sacraments A 35×70cm acrylic painting on canvas, framed and available for sale. Completed 7.8.11.
Check out the full range of gifts available at zazzle for Seven Swans A-Swimming

If you want more choices and even more gift options you can customize any product in my Zazzle and 3dRose Stores: change the size and location of existing images and add text in hundreds of fonts and colors to make that truly personal gift. It's fun and it's easy!
"Seven Swans A-Swimming" is available on 3DRose -
Christmas Seven Swans A Swimming Greeting Card is measuring 5.5w x 5.5h. Greeting Cards are sold in sets of 6 or 12. Give these fun cards to your friends and family as gift cards, thank you notes, invitations or for any other occasion. Greeting Cards are blank inside and come with white envelopes.
3DRose 30 Day Money Back Guarantee: If you are not totally satisfied with our product you can return it for a full refund minus the shipping cost. Please note personalized items can't be returned.
Sold Seven Swans A-Swimming Greeting Cards to Charlotte 1.10.11.
Thank You so much for shopping with taiche at Zazzle. I am so pleased to know that you have found the perfect Poster and hope that your gift is welcomed and treasured.It's great news to learn that you have found my Zazzle Store and I hope that you visit again soon
Click the links to see all of my Redbubble Christmas works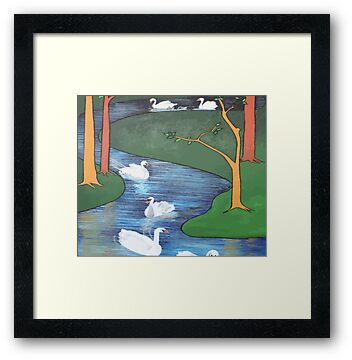 Click the links to see all of my Redbubble
Christmas Art and Photography
Bird Art and Photography and
Christmas Tees
Why not take a look at taiche's extensive portfolio and check what other original gifts taiche has to offer
taiche – Everything Gretting Card
Check out the full range of gifts available at zazzle for Seven Swans A-Swimming
ZAZZLE SALES 2011
January Trends
February Trends
March Trends
April Trends
May Trends
June Trends
July Trends
August Trends
September Trends
OCTOBER SALES
POSTAGE


x 5
STATIONARY


x 250
STICKERS


X 2
T SHIRTS