"Dinner for Nine?" is featured in BSL 15.10.10.
Dinner for Nine? featured in BSL 14.10.10.
An absolute thrill for me and an excellent showcase for my favourite puppies.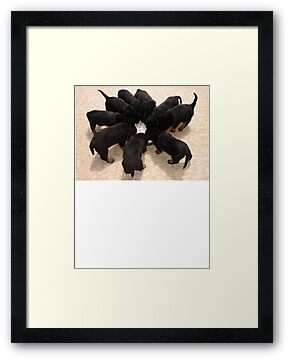 Finely-crafted custom frames create stunning art pieces from RedBubble prints. Frames are crafted from quality timbers in a range of finishes. A white, off-white or black matte surrounds the print to emphasize the artist's work and bring the piece to life. Premium ultra-clear perspex in front provides a superior finish and means the piece is lighter and easier for you to move without breaking.
I am honoured to share a featured page with the following artists: