Redbubble Sales 26.8.13. - 1.9.13.

✻ღϠ₡ღ✻
(¯`✻´¯)♥♥
`.¸.♥ღϠ₡ღ¸.♥´´¯`♥.¸¸.Ƹ̴Ӂ̴Ʒ..
Gifts As Unique As You Are
ღϠ₡ღ¸ `.¸.♥ღϠ₡ღ¸.♥´´¯`♥
For Acrylic Artwork and Photography Portfolios
For T-Shirts Adapted from Acrylic Artwork
For Unique Jewellery Creations
For Acrylic Artwork and Photography on Gifts
For Gifts and Novelties Adapted from Acrylic Artwork
For Rottweiler Fans


-——————————————————————————————————————————————————

Sold 2 stickers of Scarlet Macaw


The Scarlet Macaw Ara macao is one of the most magnificent of the Macaw species. This large Macaw has a long history as a companion to humans, dating back to the early 1100's with the Incas. They are described as magnificent, beautiful, and striking, as well as gaudy by some. Early authors like P. Slud, in his work "The Birds of Costa Rica: Distribution and Ecology" (1964), remarks that when feeding in the treetops, they adorn the foliage like gigantic, gaudy flowers. Wetmore, in "A Collection of Birds from Guatacaste, Costa Rico" (1944), described them as glowing with color in the morning sun.
A brilliantly adorned parrot, the Scarlet Macaw is truly a fantastic spectacle of color. It is a large Macaw and very similar in appearance to the Green-winged Macaw Ara chloroptera. Both of these parrots having a large amount of red in their feathering. The Scarlet Macaw is distinguished by the broad band of yellow feathers running across the middle of its wings, rather than the green band as seen on the Green Wing. Like the Green-winged, most of its body, head, and upper wings are a bright red, but it is noticeably a lighter shadeof red than that on the Green Wing. It is also slightly smaller than the Green-winged, and a bit more boisterous in personality.
A variety of common names, descriptive of their coloring, have been used for both of these Macaw parrots. Names for the Ara macao included Red Macaw, Red and Gold Macaw, Red and Yellow Macaw, Red Yellow Blue Macaw, and Scarlet Macaw. The Ara chloroptera has been described by a range of names from Green-winged Macaw, Green Wing Macaw, Red and Green Macaw, Red and Blue Macaw, Crimson Macaw, and Maroon Macaw. It was in 1949, when a Dr. Osmond Hill, after careful researched of all available materials on these species, suggested that everything be simplified. He suggested that Ara macao simply be called the "Scarlet Macaw", and Ara chloroptera simply be called the "Green-winged Macaw". These are the two common names primarily used for each of these Macaw species today.
In the last couple of decades there have been new developments in the taxonomy of the Scarlet. Geographic variations of this species show slight discrepancies in size and color and suggests three possible subspecies. Common names for these variants include the Yellow-winged Macaw, Honduran Scarlet Macaw, and Bolivian Scarlet Macaw. These variants are described in more detail below.
The Scarlet Macaw is very beautiful, inquisitive, and intelligent. Scarlet Macaw's are eager learners and can be taught a variety of tricks. They can be quite talented as a talker, though generally not quite as adept as the Blue and Gold Macaw. Scarlet's can learn about 5 to 10 words or phrases while the Blue and Gold can learn around 15 to 20. Like all Macaws, it has a loud call and it may be quite vocal at times.
This is a lively bird that loves to play and interact. It can also be quite flamboyant and boisterous in personality. The personality of a Scarlet is such that it requires good socialization at a young age. It requires a firm consistent hand in training, especially as it matures. The well socialized Scarlet Macaw is extremely social, and will be very friendly and confident with a number people. However, this Macaw takes a dedicated and determined keeper to reach and maintain its potential as a great pet bird.
Click the links to see all of my Redbubble Bird Paintings, Bird Photography, Bird Greeting Cards, Bird Stickers, Bird Tees, at Bird T-Shirts at Arttowear
Click the links to see all of my Redbubble Macaw Paintings, Macaw Photography, Macaw Greeting Cards, Macaw Stickers, Macaw Tees.
Sold 1 t-shirt and sold 1 greeting card Chat Noir – Steinlein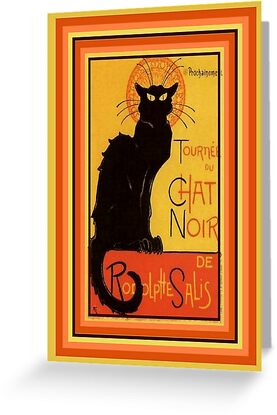 Click the links to see all of my Redbubble Le Chat Noir Paintings Le Chat Noir Photography Le Chat Noir Greeting Cards Le Chat Noir Stickers Le Chat Noir Tees
Click the links to see all of my Redbubble Vintage Advertising Paintings , Vintage Advertising Photography, Vintage Advertising Greeting Cards , Vintage Advertising Stickers, Vintage Advertising Tees.
Sold 1 sticker of Colour Is Black and White Put Together

Sold 1 greeting card of What's on A Man's Mind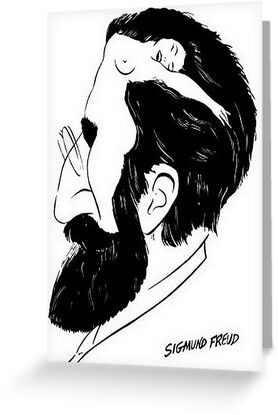 Sold 1 t-shirt of Three Owls – Art Nouveau Inspired by Klimt


If you are drawn to owls, a collector of owls or believe in the symbolism attached to them you will love this art nouveau painting as a gift. Throughout history and across many cultures, people have regarded Owls with fascination and awe. Few other creatures have so many different and contradictory beliefs about them. Owls have been both feared and venerated, despised and admired, considered wise and foolish, and associated with witchcraft and medicine, the weather, birth and death.
Click the links to see all of my Redbubble Owl Paintings, Owl Photography, Owl Greeting Cards, Owl Stickers,
Sold 1 t-shirt of Gorilla Portrait


Gorillas constitute the eponymous genus Gorilla, the largest extant genus of primates by size. They are ground-dwelling, predominantly herbivorous apes that inhabit the forests of central Africa. The genus is divided into two species and either four or five subspecies. The DNA of gorillas is highly similar to that of a human, from 95–99% depending on what is counted, and they are the next closest living relatives to humans after the bonobo and common chimpanzee.
Gorillas' natural habitats cover tropical or subtropical forests in Africa. Although their range covers a small percentage of Africa, gorillas cover a wide range of elevations. The mountain gorilla inhabits the Albertine Rift montane cloud forests of the Virunga Volcanoes, ranging in altitude from 2,200–4,300 metres (7,200–14,100 ft). Lowland gorillas live in dense forests and lowland swamps and marshes as low as sea level, with western lowland gorillas living in Central West African countries and eastern lowland gorillas living in the Democratic Republic of the Congo near its border with Rwanda.
Click the links to see all of my Redbubble Monkey Paintings, Monkey Photography, Monkey Greeting Cards, Monkey Stickers, Monkey Tees,.
Sold 1 sticker of Keep Calm And Let's Do The Time Warp Again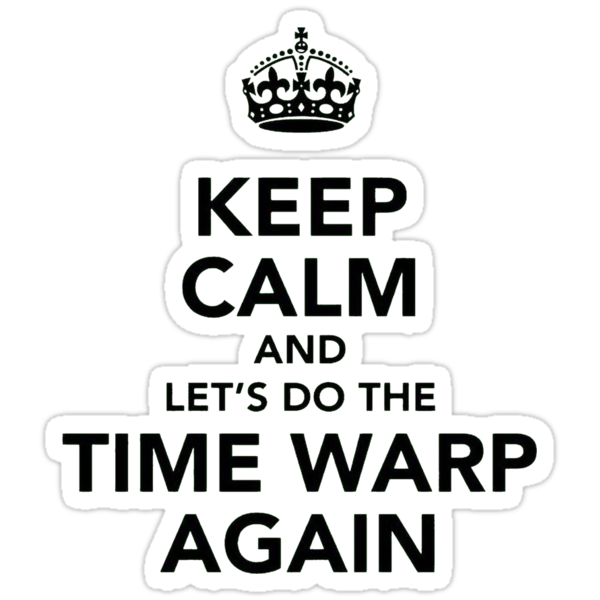 The Time Warp is a song featured in the 1973 rock musical The Rocky Horror Show and in the 1975 film adaption The Rocky Horror Picture Show, as well as a dance performed during the chorus of the song of the same name. The song is both an example and a parody of the dance song genre in which much of the content of the song is given over to dance step instructions. The dance is one of the major audience-participation activities during screenings of the film and performances of the show.
Click the links to see all of my Redbubble Funny Paintings, Funny Photography, Funny Greeting Cards, Funny Stickers, Funny Tees,.
Sold 1 sticker of Jane Avril: After Henri de Toulouse-Lautrec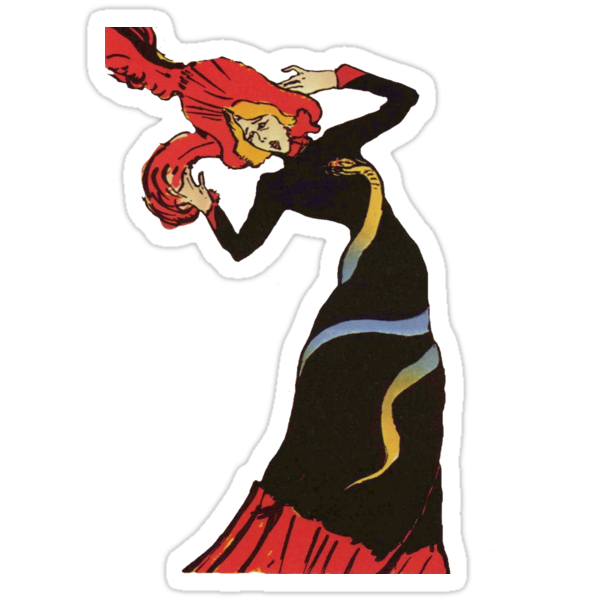 Jane Avril (1868–1943) was a French can-can dancer made famous by Henri de Toulouse-Lautrec through his paintings. Extremely thin, 'given to jerky movements and sudden contortions', she was nicknamed La Mélinite, after an explosive.
Click the links to see all of my Redbubble Vintage Advertising Paintings , Vintage Advertising Photography, Vintage Advertising Greeting Cards , Vintage Advertising Stickers, Vintage Advertising Tees
*My Images Do Not Belong To The Public Domain. All images are copyright © taiche. All Rights Reserved. Copying, altering, displaying or redistribution of any of these images without written permission from the artist is strictly prohibited