Diego" Chico" Corrales – Former two-division world champion Diego "Chico" Corrales, who lived as hard as he fought, died in a motorcycle crash Monday night in Las Vegas, two years to the day after his greatest triumph on May 7th 2007.
We have met Chico here in Las Vegas and I can only say he was one great person and everyone liked him very much. One evening we had a little get together at our house Chico came by and let us take some Photos…awesome…New Years Eve 2006-2007 he invited us to his place to celebrate the new year, great place he had and a wonderful view of the whole Las Vegas Strip. Chicos Motorcycle accident was about half a mile down the same street we live on. It was a very sad evening for alot of people. My Husband went to the funeral and it was packed with all the pro boxers.
I am very happy and fortuned that I have met Chico he was a great person.
We miss you.
Canon XTI

Featured In: 1:1 With Celebrities, March 2009
Thanks to all Hosts
Featured in: Image Writing, March 2009
Thank you Cora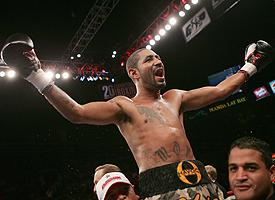 the 2 above pictures i got from the internet