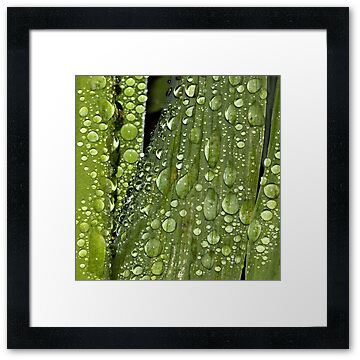 !
Featured in BUBBLING ARTISTS May 27, 2013
Featured in SUPERBLY VISUAL July 7, 2012
Featured in Impressionistic & Abstract May 7, 2012
Featured in THE GROUP Feb.9, 2012
Featured in #1 Artists Of RedBubble June 25, 2011
Featured in Nature's Paintbrush Mar. 6, 2011, which also lifted me to Featured Member
Featured in High Quality Images June 29, 2010
Not that I'm a fan, 'cause I'm not, but HipHop/Rap lingo refer to jewels as "bling". Well, these fern leaves benefited from an all day drizzle which left them with these beads of "bling". The day's weather certainly benefited me also to have the privelege of witnessing this beauty and being able to treat my cameras to it also.
Captured at Hamilton ON's RBG gardens in CANADA with my Nikon D50, 28-80 mm ED Nikkor lens, plus a 36mm Extension Tube.