There she sits, day after day, on the top of our gardenia bush under the palm trees. What's going on here? There is an old nest inside the bush, but it's falling apart. Is this the same bird that built it and used it in previous years? The warm February breeze ruffles her feathers, but she doesn't get to work. Hmmm, maybe 'she' is the 'he'??
Canon PowerShot SX10 IS, Canon Zoom Lens 20x IS 5.0-100.0mm 1:2.8-5.7 USM.
Edited in Corel Paint Shop Pro.
Location: Brevard County, Florida (USA).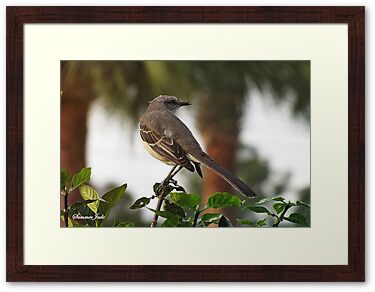 Featured in The World As We See It on Feb. 20, 2012
Featured in Backyard Photograhy/Art on Feb. 28, 2012
Featured in All Around Florida on Mar. 8, 2012
Featured in THE GROUP-GALLERY OF ART on May 27, 2012