On a stormy October day this white flower with a golden crown tries to hold her head up against the wind. This bloom is called Single Dahlia. Here it is layered with blue velvet and framed in blue to reflect the mood of the day. The image brings to mind this 1963 song called Blue Velvet.
This image appears on the calendar, Flower Works ~ Nature Enhanced (click to view)
♥~♥~♥~♥~♥~♥~♥~♥~♥~♥~♥~♥~♥~♥~♥~♥~♥~♥~♥~♥~♥~♥~♥~♥~♥~♥~♥~♥~♥~♥~♥~♥~♥~♥~♥
Canon EOS REBEL T1i, Canon Zoom Lens EF-S 18-55mm.
Layers added in Paint Shop Pro include one from Joe's Sistah on Flikr.
Location: southeastern Connecticut (USA).
Season: fall, October 15th.
(2087 views on July 24, 2014)
Featured in The World As We See It on Sept. 3, 2011
Featured in ONE SINGLE FLOWER on Display on Sept. 11, 2011
Featured in ❤❤❤LoVE & HuGS 4 ALL❤❤❤ on Sept. 23, 2011
Featured in THE GROUP-GALLERY OF ART on Apr. 27, 2012
Featured in Quality Art & Photography! on Nov. 16, 2012
Featured in The Addicted Photographer on Dec. 12, 2012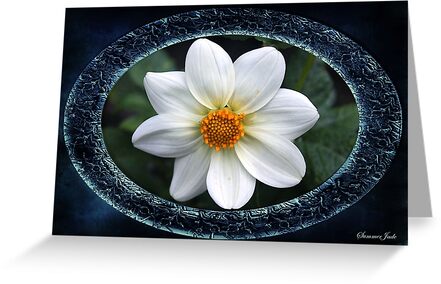 She wore blue velvet,
Bluer than velvet was the night,
Softer than satin was the light
From the stars.
She wore blue velvet,
Bluer than velvet were her eyes,
Warmer than May her tender sighs,
Love was ours.
Ours a love I held tightly
Feeling the rapture grow
Like a flame burning brightly
But when she left,
Gone was the glow of blue velvet,
But in my heart there'll always be
Precious and warm a memory
Through the years
And I still can see blue velvet
Through my tears.