A bit unusual looking, this flower, growing in a bed of dahlias, does not seem to be quite in the style of its neighbors. In coloring, it brings to mind a tropical parrot. Perhaps it's not a dahlia at all.
Actually, it turns out that this IS a dahlia. It's a Collerette Dahlia. ☺
Camera: Canon EOS Digital Rebel XT, Canon Zoom Lens EF-S 18-55mm.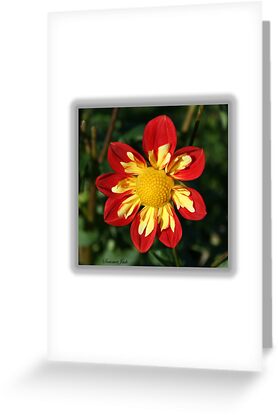 Featured in The World As We See It on Aug. 11, 2011
Featured in SUPERBLY VISUAL on Aug. 26, 2011
Featured in Connecticut Photo & Art on Oct. 3, 2011
Featured in "The Power of Photography" on Oct. 30, 2011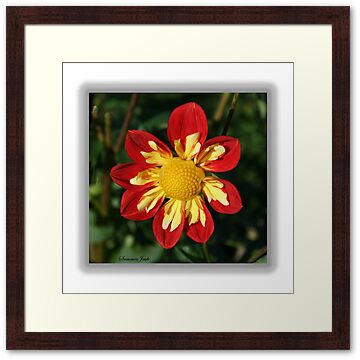 Location: Harkness State Park, Waterford, Connecticut (USA).
Edited and shadow-boxed using Paint Shop Pro.
Season: fall, October 10th.