This beautiful waterfall in the Poconos is well worth the hike it takes to get to see it. In mid-May the leaves, ferns and moss are all fresh and green. A good supply of water makes for a beautiful display. The rock face is wet from the mist.
The falls is one of three in Bushkill Falls Park. Charles E. Peters opened the Bushkill Falls area to the public in 1904 and it is still owned by the Peters family.
Canon PowerShot SX10 IS, Canon Zoom Lens 20x IS 5.0-100.0mm 1:2.8-5.7 USM.
Location: Pocano Mountains, eastern Pennsylvania (USA).
(2149 views on Aug. 3, 2014)
Featured in The World As We See It on Feb. 13, 2011
Featured in SEASONS CHANGE on Feb. 15, 2011
Featured in Appalachian Life & Artists! on Feb. 19, 2011
Featured in Pagan Ways on Feb. 21, 2011
Featured in Alphabet Soup on June 10, 2011
Featured in Featured For A Challenge on Apr. 22, 2012
Featured in The Scavenger Hunt on Aug. 2, 2012
Featured in AMERICAS~RURAL, URBAN, WILD on Feb. 13, 2013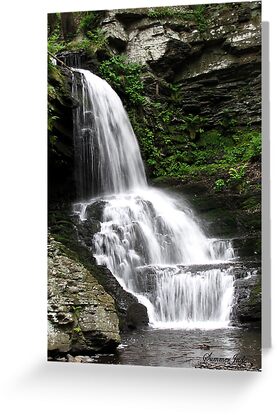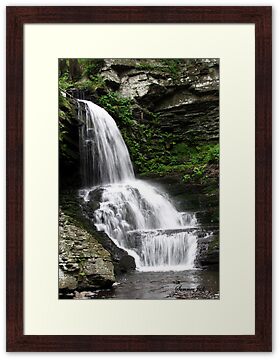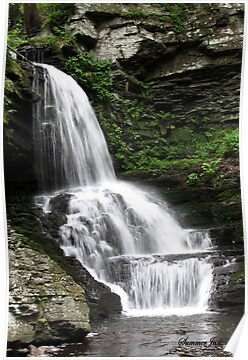 Please notice that the music notes borders are SLANTED, not straight….