October's stormy weather tossed these beautiful dahlias to and fro, bending but not breaking them. Afterward they came to rest, their stems supported by the iron fence. When the sun returned, they raised their faces skyward and were grateful.
This is how they were discovered that long ago day, and their pictures were added to this Book of Flowers. Now, so very many years later, they remain in this very old book, waiting to be discovered once again.
Camera: Canon EOS REBEL T1i, Canon Zoom Lens EF-S 18-55mm.
Photomanipulation: This diptych has 6 textured and blended grunge layers, one courtesy of skeletalmess on Flickr. Edited in Corel Paint Shop Pro.
Season: fall, October 15th.
(553 views on Jan. 19, 2012)
This image appears on the calendar, Flower Works ~ Nature Enhanced (click to view)
♥~♥~♥~♥~♥~♥~♥~♥~♥~♥~♥~♥~♥~♥~♥~♥~♥~♥~♥~♥~♥~♥~♥~♥~♥~♥~♥~♥~♥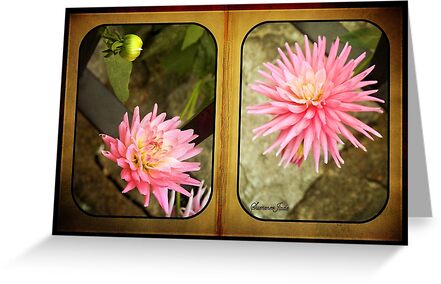 Featured in The World As We See It on Jan. 16, 2010
Featured in Enhanced Photos on Jan. 23, 2011
Featured in Disability and Beauty on Jan. 20, 2012
Featured in ! 100% ! on Aug. 24, 2013
Featured in GEMS on Aug. 25, 2013
Featured on The RB Explore Page on Aug. 26, 2013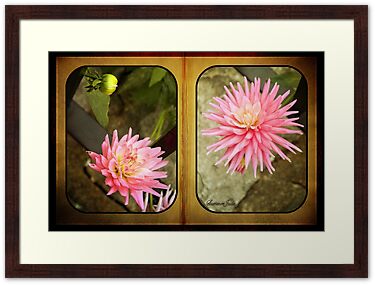 Just a Song at Twilight is a rembrance of the songs families used to sing many years ago around the piano at the end of the day, back when the original of this book was new…
Music by James Lynam Molloy,
Lyrics by J. Clifton Bingham 1884
Once in the dear dead days beyond recall,
When on the world the mists began to fall,
Out of the dreams that rose in happy throng
Low to our hearts Love sang an old sweet song;
And in the dusk where fell the firelight gleam,
Softly it wove itself into our dream.
chorus
Just a song a twilight, when the lights are low,
And the flick'ring shadows softly come and go,
Tho' the heart be weary, sad the day and long,
Still to us at twilight comes Love's old song,
comes Love's old sweet song.
Location: These flowers were growing in Harkness State Park in the town of Waterford in Connecticut USA.