Blue roses are very rare, in fact maybe only once in a blue moon are they seen! …Well, just once for a challenge anyway, or just for fun. ☺
Camera: Canon EOS REBEL T1i, Canon Zoom Lens EF-S 18-55mm.
Photomanipulation: 3 layers of blue added in Paint Shop Pro.
This image appears on the calendar, Flower Works ~ Nature Enhanced (click to view)
♥~♥~♥~♥~♥~♥~♥~♥~♥~♥~♥~♥~♥~♥~♥~♥~♥~♥~♥~♥~♥~♥~♥~♥~♥~♥~♥~♥~♥~♥~♥

Featured in The World As We See It on Jan. 20, 2011
Featured in SAFE HAVEN GROUP on Jan. 20, 2011
Featured in DSLR Users Group on Jan. 22, 2011
Featured in Retired and Happy on Jan. 23, 2011
Featured in Feelin' Good! on July 2, 2011
Featured in ENCHANTED FLOWERS on Aug. 11, 2012
Featured in ONE SINGLE FLOWER ON DISPLAY on Aug. 15, 2012
Featured in Roses Grow on You! on Nov. 12, 2012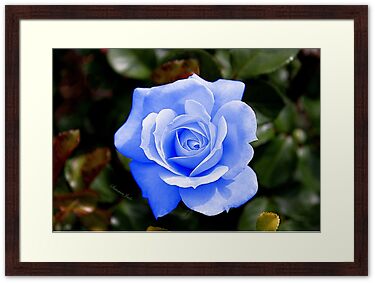 Location: Bardstown, Kentucky (USA).