Could be inspired by New Year's Eve or Christmas Eve or just a romantic dinner for a couple at home alone in winter snow. This festive table is decorated for cheer with polished shells used for napkin rings and a reindeer as the centerpiece. The setting is warm and inviting.
Location: The Winery at the Biltmore Estate, Asheville, North Carolina (USA)
Camera: Canon EOS REBEL T1i, Canon Zoom Lens EF-S 18-55mm.
Two texture layers from Skeletal Mess have been added to this photo using Corel PSP.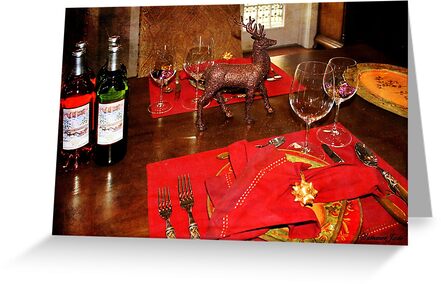 Featured in Country Bumpkin on Dec. 21, 2010
Featured in The World As We See It on Dec. 21, 2010
Featured in FREEDOM IN WORDS & ART on Dec. 25, 2010
Featured in SPECIAL OCCASIONS on July 20, 2013
Featured on The RB Explore Page on July 22, 2013
Winner in the "Cafes, Coffee Shops & Restaurants" challenge in BassenThorpe Gallery on July 27, 2013.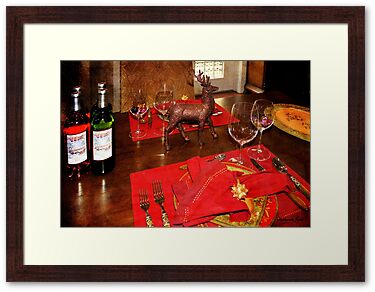 Location: Western North Carolina (USA).