This bouquet was a centerpiece at a family gathering.
My Summer Remembrance
a poem by SummerJade, Nov.14, 2010
Zinnias in a treasured pitcher,
Butterflies that flutter by,
Oyster shells on a picnic table,
Family gathered, spirits high!
Happy times and smiling faces,
Lots of hugs and photos too,
News is part of my remembrance
Will this summer love prove true?
Now in autumn, days grow longer
And we go our separate ways,
Grow and change in new endeavors;
…May we remember summer days.
Season: July 24th, summer.
Location: southeastern Connecticut (USA).
Canon EOS REBEL T1i, Canon Zoom Lens EF-S 18-55mm.
Editing: Vignette plus additional layers of butterflies done in Corel Paint Shop Pro.
(2020 views on July. 29, 2013)
Featured in The World As We See It on Nov. 26, 2010
Featured in ! Inspired Art ! on Jan. 5, 2011
Featured in BUBBLING BUBBLERS on Feb. 2, 2011
Featured in ImageWriting on June 30, 2011
Featured in THE GROUP on Apr. 2, 2012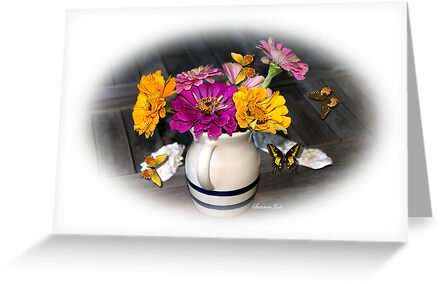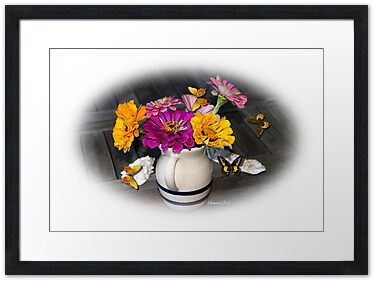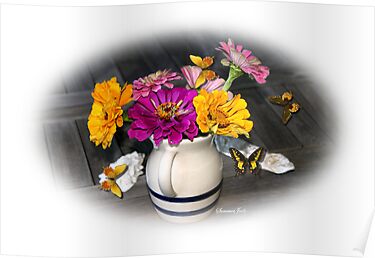 Click to see this art on a tee…