The very dark stems and buds of this pink dahlia look strange at dusk. They must be an extremely dark green. The flower itself, however, is very bright. It seems to glow in the twilight. ☺
Canon EOS REBEL T1i, Canon Zoom Lens EF-S 18-55mm.
Season: Sept. 6th, late summer.
(538 views on Sept. 16, 2011)
This image has been selectively colored onto a black and white background with added texture using Corel Paint Shop Pro.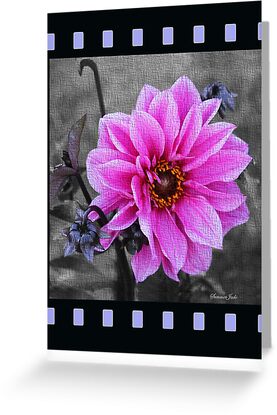 Featured in The World As We See It on Sept. 29, 2010
Featured in Bubblers' Weekly Challe on Sept. 30, 2010
Featured in Freedom In Words & Art on Oct. 7, 2010
Featured in Connecticut Photo & Art on Mar. 23, 2011
Featured in Creative Cards & Calen on May 6, 2011
Featured in The "X" Factor on May 6, 2011
Featured in The Challenge Corner on May 9, 2011
Featured in Feelin' Good! on Sept. 18, 2011
Featured on The RB Explore Page on Apr. 22, 2012

Location: southeastern Connecticut (USA)