Here's a display to welcome the fall season. These items in Primitive style are arranged on a bench near the front door of a country home. The children have added colored leaves from the yard, giving this still life some real autumn color! The lantern reflects a cloudy sky that threatens rain, typical changeable New England weather! ☺
Location: eastern Massachusetts (USA).
Canon EOS REBEL T1i, Canon Zoom Lens EF-S 18-55mm.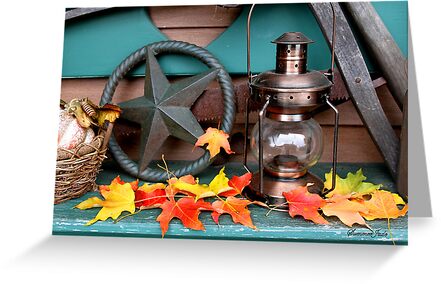 Featured in The World As We See It on Sept. 28, 2010
Featured in The Art Of Still Life on Sept. 30, 2010
Featured in Nostalgic Art and Photography on Oct. 10, 2010
Featured in Country Bumpkin on July 15, 2012
Featured in ♥ Artists Universe ♥ on July 17, 2012