This is the view of the beach as seen when sitting on the top step of the walkway over the dune. This walkway protects the fragile dunes and dune grasses from the erosion that would be caused by foot traffic.
Looking through the fence gives a different perspective of the Atlantic Ocean, the sand, and even a gull in flight. ☺
This beach is located in the town of Melbourne Beach in Florida.
Canon EOS REBEL T1i, Canon Zoom Lens EF-S 18-55mm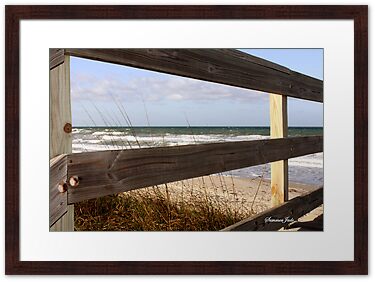 Featured in The World As We See It on June 1, 2010
Featured in That's Entertainment! on June 11, 2010