This image is inspired by a poem by Edgar Allan Poe.
Earthmonster provided the original template (background) image
for a challenge in the All in the Editing group.
The photo of the crow is mine. I came upon the crow while on the hiking trail to Natural Bridge
Canon PowerShot SX10 IS, Canon Zoom Lens 20x IS 5.0-100.0mm 1:2.8-5.7 USM.
Edited in Paint Shop Pro using duplicates and blending layers with textures added.
Textures by Shadowhouse Creations
(10197 views on Aug. 8, 2014)
This image appears on the calendar, Photomanipulation~ a New Vision (click to view)
♥~♥~♥~♥~♥~♥~♥~♥~♥~♥~♥~♥~♥~♥~♥~♥~♥~♥~♥~♥~♥~♥~♥~♥~♥~♥~♥~♥~♥
The verse from The Raven_ describing this scene is:
Deep into that darkness peering,
long I stood there wondering, fearing,
Doubting, dreaming dreams no mortal
ever dared to dream before
But the silence was unbroken,
and the darkness gave no token,
And the only word there spoken was
the whispered word, `Lenore!'
This I whispered, and an echo murmured
back the word, `Lenore!'
Merely this and nothing more.
Featured in Freedom to Shine on Oct. 4, 2009
Featured in Dimensions on Oct. 5, 2009
Winner in All in the Editing: Horror Hill on Oct. 6, 2009
Featured in A Place To Call Home on Oct. 8, 2009
Winner in Inspired Art: Spirit Of Halloween Nov. 6, 2009
Featured in ! Inspired Art ! on Nov. 7, 2009
Featured in If it doesn't belong on Nov. 9, 2009
Winner in Digital Artists United "MOODY" on Dec. 21, 2009
Featured in ImageWriting on Mar. 16, 2010
Featured in The Secret Society on Mar. 19, 2010
Featured in Lazy Lizard Design's on Mar. 24, 2010
Featured in The World As We See It on May 2, 2010
Featured in Pagan Ways on May 6, 2010
Featured in Raven Heart – Corvus on Mar. 10, 2011
Featured in Featured For A Challenge on May 27, 2011
Featured in ART UNIVERSE on June 25, 2011
Featured in Featured For A Challenge on Jan. 8, 2012
Featured in Digital Photography on Jan. 11, 2012
Featured in Self Taught Photographers on Jan. 13, 2012
Featured in THE GROUP on Jan. 16, 2012
Featured in Weekly Theme Challenges on Jan. 16, 2012
Featured in SPECIAL OCCASIONS on Jan. 17, 2012
Featured in The Designers Corner on Feb. 2, 2012
Featured in Muted on Feb. 1, 2013
Winner in Artists Universe "DARK ♦ GOTHIC ART Challenge" on Feb. 9, 2013
Featured in THE "X" FACTOR on Mar. 1, 2013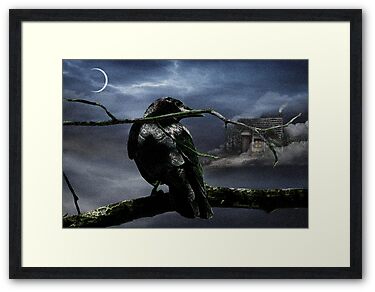 "The Raven" by Edgar Allan Poe was published
January 29, 1845.
The Raven is often noted for its musicality, stylized language, and supernatural atmosphere. It tells of a talking raven's mysterious visit to a distraught lover, tracing the man's slow descent into madness. The lover is lamenting the loss of his love, Lenore. The raven seems to further instigate his distress with its constant repetition of the word "Nevermore". (Wikipedia)