March 17th is St. Patrick's Day, a day for wearing green and for celebrating everything Irish. ☺
May God hold you in the hollow of his hand. (An Irish blessing).
Canon EOS Digital Rebel XT, Canon Zoom Lens EF-S 18-55mm.
Edited in Corel Paint Shop Pro, layered with color and texture.
Season: spring, May 12th.
Location: New Bern, North Carolina (USA).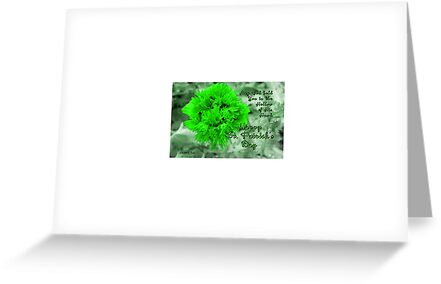 Featured in Cards for Sale on Sept. 4, 2009
Featured in Bubblers' Weekly Challe- green on Feb. 21, 2010
Featured in Cards For Sale on Mar. 3, 2010
Featured in The Scavenger Hunt on Mar. 12, 2010
Featured in Country Bumpkin on Mar. 15, 2010
Featured in Inspirational Greeting Cards on Mar. 16. 2010
Featured in ! Inspired Art ! on Mar. 17, 2010
Featured in Extremely Positive on Feb. 27, 2011
Featured in HOLIDAYS & SPECIAL on Mar. 8, 2011
Featured in Weekly Theme Challe-St.Pat on Mar. 14, 2011
Featured on the RB Explore page on Feb. 26, 2012
Featured in ONE SINGLE FLOWER ON Display on Feb. 26, 2012
Featured in Country Bumpkin on Mar. 16, 2012
Featured in SPECIAL OCCASIONS on Mar. 17, 2012
Camera: Canon EOS Digital Rebel XT, Canon Zoom Lens EF-S 18-55mm.
Location: New Bern, North Carolina (USA).
(2533 views on Mar. 6, 2013)