A little fairy with a bird on her toes rests on my kitchen countertop. A golden glow
signals the start of happy hour. It's magic time!
The Bourbon is Woodford Reserve my favorite from the Bourbon Trail in Kentucky.
Canon EOS Digital Rebel XT, Canon Zoom Lens EF-S 18-55mm
.Location: southeastern Connecticut (USA)
(2011 views on Oct. 6, 2013)
Featured in Your Living spaces on Aug. 22, 2009
Featured in Artistic Libation on Aug. 23, 2009
Featured in ImageWriting (2/24) on Aug. 24, 2009
Featured in Alphabet Soup (Letter W) on Dec. 5, 2009
Featured in Moody and Evocative on Feb. 28, 2010
Featured in Bubblers' Weekly Challenge on Apr. 10, 2010
Featured in The World As We See It on Sept. 20, 2010
Featured in Freedom In Words & Art on Sept. 23, 2010
Featured in Weekly Theme Challenges on Oct. 4, 2010
Featured in Tuesday Afternoon on Apr. 17, 2011
Featured in Story through Image on Apr. 24, 2011
Featured in Connecticut Photo & Art on Apr. 24, 2011
Featured in THE GROUP on Sept. 18, 2011
Featured in Featured For A Challenge on Nov. 19, 2011
Featured in Featured For A Challenge on Jan. 8, 2012
Featured in The Art Of Still Life on May 27, 2014
Bourbon is a type of American whiskey – a distilled spirit made primarily from corn (maize). The name derives from its historical association with an area known as Old Bourbon, around what is now Bourbon County, Kentucky. While it may be made anywhere in the United States, it is strongly associated with Kentucky.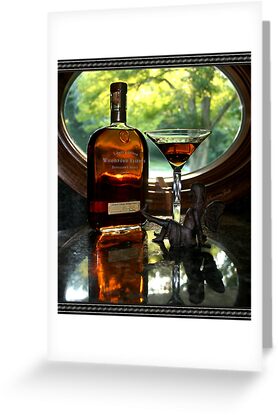 On May 4, 1964, the United States Congress recognized Bourbon Whiskey as a "distinctive product of the United States." Only whiskey produced in the USA can be called bourbon.
(info source: Wikipedia)