Here's a quote to think about the next time it rains.
Maybe it will even make you smile…
"Millions long for immortality who don't know what
to do with themselves on a rainy Sunday afternoon."
Susan Ertz (1894 – April 11, 1985)
This image is the cover image for a CALENDAR called Speak To Me ~ Thoughts and Quotes
♥~♥~♥~♥~♥~♥~♥~♥~♥~♥~♥~♥~♥~♥~♥~♥~♥~♥~♥~♥~♥~♥~♥~♥~♥~♥~♥~♥~♥~♥~♥~♥~♥~♥~♥~♥~♥
Canon EOS Digital Rebel XT, Canon Zoom Lens EF-S 18-55mm.
(2538 views on June 8, 2013)
Season: June 4th, late spring.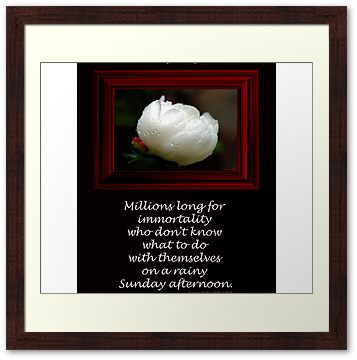 Now, isn't that better than…………
Here comes that rainy day feeling again
And soon my tears they will be falling like rain
It always seems to be a Monday
Left over memories of Sunday always spent with you
Before the clouds appeared and took away my sunshine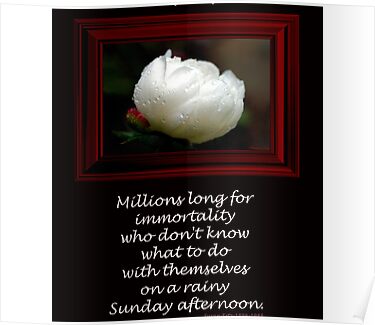 Here comes that rainy day feeling again
And I'll be dreaming of you Baby in vain
Your face is always on my mind girl
I'm hoping soon you're gonna find
Your way back to me
Cause if you say you'll stay
The rainy days will go away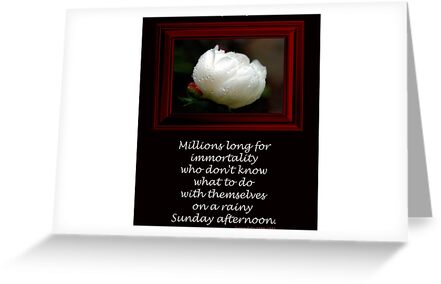 Featured in Challenge Weekly: "You" on Aug. 12, 2009
Featured in Peony Perfection on Mar. 18, 2010
Featured in You're Accepted on Mar. 26, 2010
Featured in The World As We See It on Mar. 26, 2010
Featured in Inspirational Greeting Cards on Apr. 12, 2010
Featured in Cards For Sale on Aug. 25, 2010
Photographed in southeastern Connecticut (USA).