Orginal photo taken with Canon 60D of a top hat in an old model Rolls Royce. See "On The Town". I took a seperate photo sans the crop, edited in PSP3 and painted ala Seurat in Dynamic Auto Painter and Painter Essentials4.
811 views, 15 features, 26 favs
Influenced by the Impressionists' experimentation with color, Postimpressionist painter Georges Seurat worked with innovative techniques. On an enormous canvas, the artist depicted city dwellers gathered at a park on La Grande Jatte (literally, "the big platter"), an island in the River Seine. All kinds of people stroll, lounge, sail, and fish in the park.
Using newly discovered optical and color theories, Seurat rendered his subject by placing tiny, precise brush strokes of different colors close to one another so that they blend at a distance. Art critics subsequently named this technique Divisionism, or Pointillism. The artist visited La Grande Jatte many times, making drawings and more than 30 oil sketches to prepare for the final work. With his precise method and technique, Seurat conceived of his painting as a reform of Impressionism. The precise contours, geometric shapes, and measured proportions and distances in Seurat's masterpiece (not to mention its monumental size) contrast significantly with the small, spontaneous canvases of Impressionism.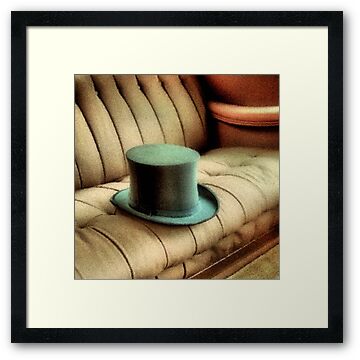 On The Town
811 views, 15 features
Featured in Hat Heads
Featured in GEMS
Featured in Revealed
Featured in Shameless Self-Promotion
Featured in Creation
Featured in The Group
Featured in Art Universe
Featured in That 70's Shot
Featured in For A Challenge
Featured in High Quality Images
Featured in Photo Painters
Featured in The Virtual Museum
Featured in BassenThorpe Gallery
Featured in The Breakfast Club
Featured in The Addicted Photographer