Canon 60D. Depicted above is the (somewhat) famous "Hi, How Are You" frog mural done by Daniel Johnston on the side of a building in Austin, Texas.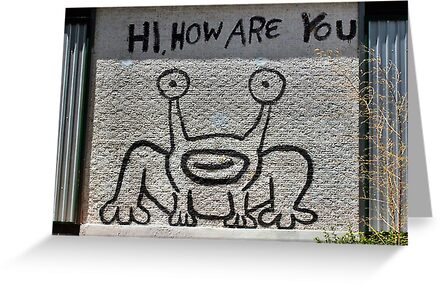 Originally, the building whose brick exterior played host to this mural was Sound Exchange, a now defunct record store at the corner of Guadalupe and 21st Street. However, like so many familiar Austin haunts from the 1990s, Sound Exchange folded in 2003, and the space was purchased shortly thereafter by a franchise of the Baja Fresh chain of Mexican restaurants.
The question: What was to become of the mural? The community mounted a grass roots protests to preserve the mural, which had initially been threatened with destruction. Well, as you can see from the photograph above, the new owner, after some level of controversy regarding the mural's fate, built around the mural, preserving it for all to see. (In fact, according to this 2004 press release, the owner did it at his own expense.).
By 2008, though, the Baja Fresh chain had folded, and now at that location is Crave Thai and Sushi Bar (which likely did not face any controversy because the previous owner had already spent the money to preserve the mural).