model myself
original photo taken with fujifinepix
manipulated in PS Elements 7 and 9
lighting, household lamp
taken for Halloween
Pulcinella, Italian pronunciation: [pultʃiˈnɛlla]; often called Punch or Punchinello in English, Polichinelle in French, is a classical character that originated in the commedia dell'arte of the 17th century and became a stock character in Neapolitan puppetry.

His main characteristic, from which he acquired his name, is his extremely long nose, which resembles a beak. In Latin, this was a pullus gallinaceus, which led to the word "Pulliciniello" and "Pulcinella", related to the Italian pulcino or chick.
According to another version, "Pulcinella" derived from the name of Puccio d'Aniello, a peasant of Acerra, who was portrayed in a famous picture attribued to Annibale Carracci, and indeed characterized by a long nose. It has also been suggested that the figure is a caricature of a sufferer of acromegaly.
Ever white dressed and black masked (hence conciliating the opposites of life and death), he stands out thanks to his peculiar voice, the sharp and vibrant qualities of which contribute intense tempo of the show. According to Pierre Louis Duchartre, his traditional temperament is to be mean, vicious, and crafty: his main mode of defense is to pretend to be too stupid to know what's going on, and his secondary mode is to physically beat people.
Commedia dell'arte (Italian pronunciation: [komˈmɛːdja delˈlarte]), the closest translation being "comedy of art", is a form of theatre that began in Italy in the mid-16th century, characterized by masked "types", the advent of the actress and improvised performances based on sketches or scenarios.
Italian theatre historians, such as Roberto Tessari and Ferdinando Taviani, have claimed that commedia developed as a response to the political and economic crisis of the 16th century, and, as a consequence, became the first entirely professional form of theatre and is commonly referred to as the origin of comedy.
Sometimes the performers were referred to as "mountebanks" because they played on outside, temporary stages, and relied on various props (robbe) in place of extensive scenery. The better troupes were patronized by nobility, and during carnival time might be funded by the various towns or cities, in which they played. Extra funds were received by donations (essentially passing the hat) so anyone could view the performance free of charge. Key to the success of the commedia was their reliance on travel to achieve fame and financial success. The most successful troupes performed before kings and nobility allowing individual actors, such as Isabella Andreini and Dionisio Martinelli, to become international stars.
part of the
Venetian Identities series
Wisdom of the Dark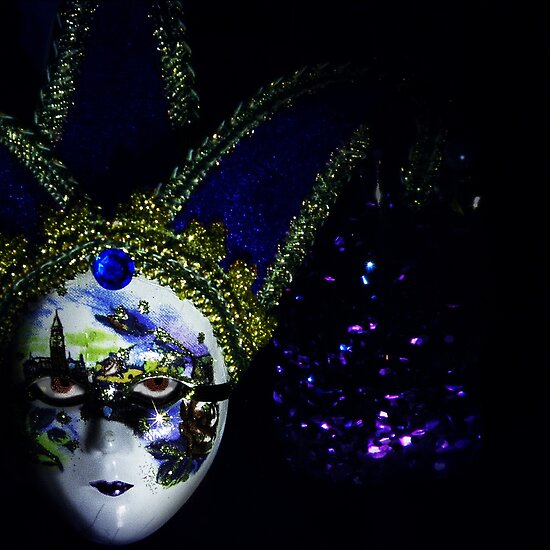 Jealous Desires of an Unsettled Mind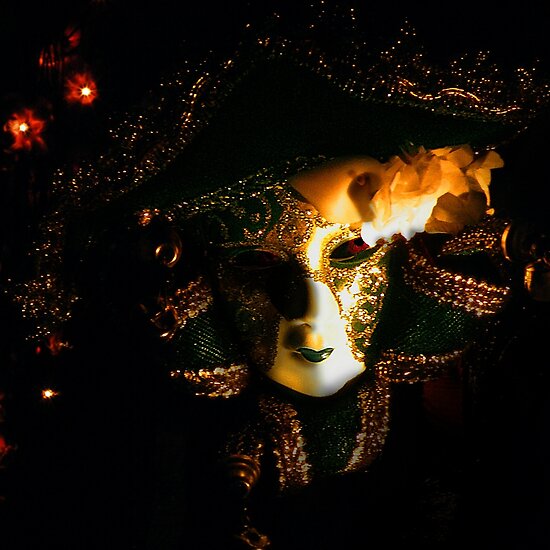 Mystery of Identity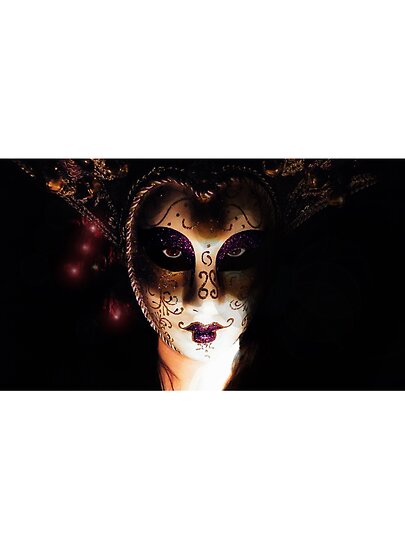 Golden Moments in Glittery Evil