Hoge Dijk-collection
Amsterdam-Abcoude, the Netherlands
Into a blue iris dream…
This beautiful patch of blue irises (Iris spuria) seemed to be dreaming in the warm morning sun, and dragged the viewer into their dream…
Photo made in the wild flowers- and herb garden at 'Zon Alom' – centre of the Nature Association "de Ruige Hof" , an organisation that works for the preservation of two natural area's in Amsterdam South East: "Klarenbeek", a part of the Hoge Dijk, and the "Riethoek" (Reed Corner) .
The "Hoge Dijk" (High Dike)
is a natural area in the South of Amsterdam SouthEast, adjacent to Abcoude ( Google Maps )
There are large water parts and lots of reed lands and low bushes, and wooded area's.
Just like the Reed Corner (Riethoek) it's a very precious natural ecosystem close to the highly populated neighbourhoods of Amsterdam SouthEast.
Photograph made with Pentax K10D camera and
Pentax-M zoom1:2.8-4 40-80mm lens
Exposure 1.250 sec, f. unknown mm
ISO 200
Date: june 2010
Featured in:
Flowering bulbs (July 13, 2011)
Art Universe (July 4, 2014)
Top10 in:
Water Iris photo's (Oct. 21, 2011)
Amazing challenge entertainement – Blue flowers
Thank you so much to the hosts of these marvellous groups and challenges

(July 10, 2014)
See more
See more of my Hoge Dijk collection
See more of my Flowers
---
Comments and feed-back always welcome. Thanks for looking :)
---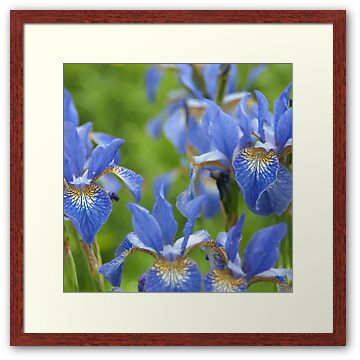 Related work: