Artis Amsterdam – Zoo collection
the Netherlands
Description:
Northern Gannet (Lat. Morus bassanus – Nl. Jan van Gent) – portrait
cool lady, isn't she! :D
Range
Quote Wikipedia :
"Their breeding range is the North Atlantic. They normally nest in large colonies, on cliffs overlooking the ocean or on small rocky islands. The largest colony of this bird, with over 60,000 couples, is found on Bonaventure Island, Quebec, but 68% of the world population breeds around the coasts of Great Britain, with the largest colonies on the Bass Rock (whence the species' Latin name) and Borera, St Kilda.
In the United Kingdom, gannets are a protected species. However, a legal exception is made for the inhabitants of the district of Ness (also known as Nìs) of the Isle of Lewis who are allowed to kill up to 2000 gannets (locally known as guga) annually to serve as a traditional local delicacy—the taste is described as fishy."
Conservation status
Northern Gennet are on the IUCN list of threatened species – status: least concern
Although Northern Gannet populations are now stable, their numbers were once greatly reduced due to loss of habitat, removal of eggs and killing of adults.
Variations – Variaties
This image with a grey border for landscape-format card or print, or with any colour border on request, you can find here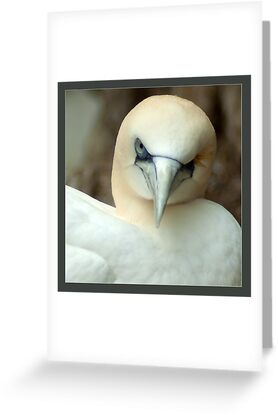 ---
Technical details
Photograph made with Pentax K10D camera and Tamron AF70-300mm Tele-macro1:2 lens
Exposure 1/250 sec, f. 5.6, focal length 300 , ISO 200
Date: May, 2011
Views: 510 Favorites: 22 on Jan.9, 2012
Challenge Winner
This image was challenge winner in Cee's fun artsy friends – 'Birds' (Aug. 18, 2011)
and I was made featured member in this marvellous group.
Shared challenge winner in The delight of all things white – Amateur Photographers association (Dec. 28, 2011)
Thank you very much to the hosts for organizing the challenge, and to all those who voted! Your support is much appreciated!
Featured on RB-Explore (Dec. 28, 2011)
Click thumb for larger screenshot


Features and Top10 placements
Featured in Monochrome in colour (June 13 , 2011)
Featured in Image Writing (June 13, 2011)
Featured in The woman photographer (June 15, 2011)
Featured in The Birds (June 19, 2011)
Featured in High quality images (June 22, 2011)
Featured in Postcard Style (June 24, 2011)
Featured in Eye contact (June 29, 2011)
Top10 in Nature In Its Entirety – July Avatar (July 5, 2011)
Featured in Openings Celebration Features in Simply White (Oct. 9, 2011)
Top10 in Birds of the World – Shutterbugs (Dec 27, 2011)
Top10 in letter G – Cee's fun artsy friends (Jan. 9, 2012)
Featured in Alphabeth Soup – letter N (April 15, 2012)
Thank you so much to the hosts of these marvellous groups and challenges

---
See more
See more of my birds
See more of my Artis Amsterdam zoo-collection
You can now also search my portfolio using
Steppeland Thematic Catalogue
---
Comments and feed-back always welcome. Thanks for looking :)
---