Hundreds of Geese in the polder.
Winter in the polder- series , Breukelen, the Netherlands, Feb. 2010
Copyright © 2011 Steppeland – All rights reserved
173 views on Nov. 2, 2011
See more of my
Winter-pictures / This is Holland-collection / 'Winter in the polder'-series / Barnyard photography
You can now also search my portfolio using your own Tag words and/or tags listed in
Steppeland Thematic Catalogue
---
For further description and technical info, please scroll down.
---
Description
It's hard to distinguish in the preview images, but clearly visible on the larger print – at least 3 different kind of geese:
Greylag goose Wikipedia, Greater White-fronted Goose Wikipedia and Barnacle Goose Wikipedia)
Some more shots from my long hike through the frozen polders and park lands in Breukelen. Goodness, it was sooo cold and grumpy clouded.
There were actually hundreds and hundreds of geese in the area – I only succeeded in a few reasonable shots though – the one moment they were peacefully grazing, the next they were alarmed and flew up in large numbers, while the sky filled with they loud babbling.
And they always made sure to keep a safe distance from me and my camera LOL – (and I was not the only one walking around with camera or binoculars there… birdwatchers all over the place :D )
---
Technical details
Photograph made with Pentax K10D camera and
Tamron AF70-300mm Tele-macro1:2 lens
Exposure 1/90 sec, f. unknown
focal length 90 mm, ISO 400
Date: Feb. 14, 2010
---
Comments and feed-back always welcome. Thanks for looking :)
---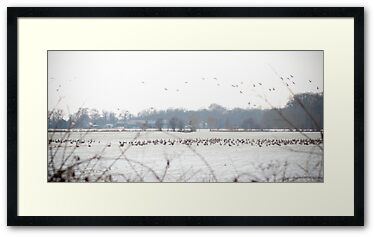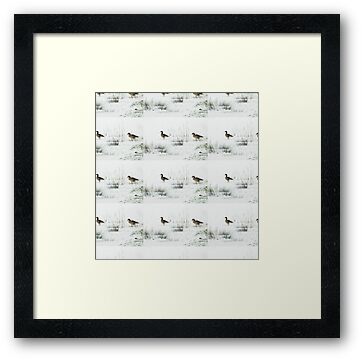 Ïnto the white wide world":into-the-white-wide-world