the High Dike (de Hoge Dijk) – collection
Nature Work Day 02 – Nov.6, 2010
Amsterdam-Abcoude, the Netherlands
photojournalism, reportage, local news
General info
Saturday, Nov. 6, 2010, was for the 10th time National Nature Work Day in the Netherlands.
All over the country, organisations and trusts for conservation of natural area's invited volunteers to come and spend (part of) the day to help mow reeds, clean ditches, saw branches and assist with all kind of chores in order to preserve the natural area's in their own neighbourhood.
Also Nature Association "de Ruige Hof" , an organisation that works for the preservation of two natural area's in Amsterdam South East: the "Hoge Dijk" (High Dike) and the "Riethoek" (Reed Corner) , participated.
A group of about 40 volunteers, children and youth from the local Scouting group, and some members from the Nature Association, worked together all day long to clean up some overgrown area's in the "Hoge Dijk – Klarenbeek", to create some open spaces and support a larger natural variety of species. At the same time, they all had a great day of socializing and enjoying the great outdoors.
The "High Dike" (de Hoge Dijk)
Recreation area The High Dike and nature reserve "Klarenbeek" are natural area's in the South of Amsterdam SouthEast, adjacent to Abcoude ( Google maps )
There are large water parts and lots of reed lands and low bushes, and wooded area's.
Just like the Reed Corner (de Riethoek) it's a very precious natural ecosystem close to the highly populated neighbourhoods of Amsterdam SouthEast.
This photo
Young volunteers are dragging large branches away from the trimmed trees towards the road, where they will be piled up and later on collected by the Parks Department of the municipality.
---
Technical details
Photograph made with Pentax K10D camera and
Pentax-DA 18-55 lens
exp.time 1/350 sec. at f/6,7
ISO 200
Focal length 50mm
---
See more
See more of my Nature Work Day reportage
See more of my Hoge Dijk collection
---
Comments and feed-back always welcome. Thanks for looking :)
---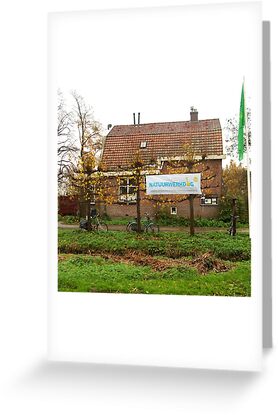 Nature Work Day 01 – Nov.6, 2010