SAIL 2010, Amsterdam
Saturday August 21, 2010 – Ships in the harbour
"SAIL Amsterdam is a large maritime event held every five years in Amsterdam, the Netherlands. Tall ships from all over the world visit the city to moor in its Eastern harbour, and people can then visit the ships for four days." (quote Wikipedia)
This photo: Standing watch
Alphabet soup: U for uniform
Early morning, before the public will be allowed to visit the ships…
Two young sailors in uniform are standing watch at the foot of the stairs to the Kruzenshtern, a Russian four masted barque and tall ship .
Photograph made with Pentax K10D camera and
Pentax-DA 18-55 lens
1/90 sec, at f 8
ISO 200 Focal lenth 35mm
---
Features and Top10 placements
Featured in Naturally black or white,… (Feb.24, 2011)
Featured in Alphabet soup – Letter U (May 27, 2011)
Thank you so much to the hosts of these marvellous groups

---
See more
See more of my nautical photography
See more of my photo journalism
See more of my Amsterdam Sail 2010 – collection
---
Comments and feed-back always welcome. Thanks for looking :)
---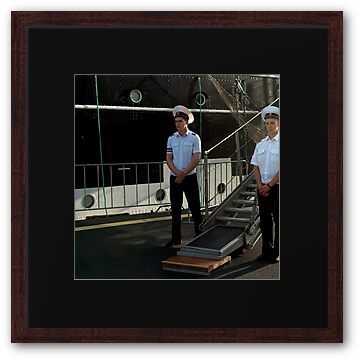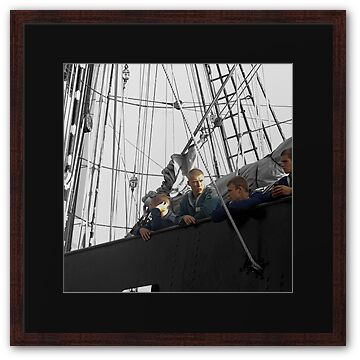 "Sehnsucht – Four young sailors ":http://www.redbubble.com/people/steppeland/art/...