Children from Hosanna – Ethiopia 1992
Copyright © 1992 Steppeland – All rights reserved
This photo of this playful group of children is one of a series photographs that is somehow precious to me.
I made them long ago, 1992, when we travelled to Ethiopia for a meeting. It was only a few years after the war, the poverty was appalling… And these kids… they just allowed me photographing them, with a spontaneity that touched my heart.
Even now, so many years later, I still bow for them, in reverence.
Yes, indeed, it was an incredible experience… one never too forget. And that's exactly what makes these pics so precious…: the images help me to remember, more lively than my memory ever could…
---
Unite for children UNICEF


This image was also donated as a contribution to the book For Africa , a coop by 71 involved artists. 100% of profits of this book will go to ACF for East Africa.
---
Photo made with Pentax ME Super film camera and Pentax-M zoom1:2.8-4 40-80mm lens and Scanned from print
Views: 559, Favorites: 12 , on Jan 5, 2012
Redbubble HomePage Feature (Jan. 5, 2012)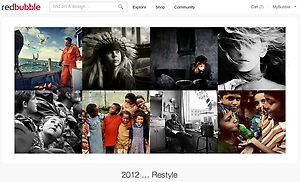 Thank you, Redbubble, and the person who curated this homepage layout! It means a lot!
Features and top10 placements
Top10 placement in The Continents, Part I Africa by The World (June 4, 2010)
Featured in Letter C – Alphabet soup (Jan. 22, 2011)
Featured in You big softy (March 7, 2011)
Featured in RB-journal : 50 Breathtaking Examples Of Street Photography And Photojournalism (Aug. 17, 2011)
Featured in Inspired Art (jan. 5, 2012)
Top10 in March Avatar – Candid photographs (Feb. 27 2012)
Featured in "Life in the city… ":http://www.redbubble.com/groups/suburbia (Feb. 28, 2012)
Thank you so much to RB, and to the hosts of these wonderful groups! :)
See more
See more of my Africa photography
See more of my Ethiopia children
---
Comments and feedback always welcome. Thanks for looking :)
---