The Monkey is one of the 12 Animal signs of the Chinese Zodiac. In the background is the Chinese character for the Monkey.
This version is made for light-colored clothing and stickers; if you want a dark-colored shirt try this version instead.
Those born in the Year of the Monkey are said to be inventive, sociable, and artistic, with a competitive streak and a love of problem-solving. If you were born in 2004, 1992, 1980, 1968, 1956, 1944, 1932, or 1920 you are probably a Monkey, but double-check the exact dates if your birthday is in mid-January to mid-February because the Lunar New Year is on a different date each year. Wikipedia's Chinese Zodiac page is a good starting point for more information about all of the signs and their meanings.
See the rest of the work in this series: Chinese Zodiac
Also available as cards
and prints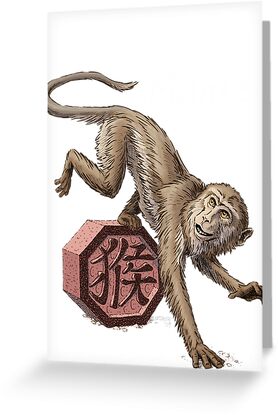 Drawn with a brush-pen on bristol paper, with color added digitally. Copyright 2009 Stephanie Smith.