The Rooster is one of the 12 Animal signs of the Chinese Zodiac, in the background is the Chinese character for the Rooster.
This artwork is for stickers and light-colored clothes; if you want a darker-colored shirt try this version instead.
Those born in the Year of the Rooster are said to be sociable, charming, meticulous, hard-working, and loyal. If you were born in 2005, 1993, 1981, 1969, 1957, 1945, 1933, or 1921 you are probably a Rooster, but double-check the exact dates if your birthday is in mid-January to mid-February because the Lunar New Year is on a different date each year. Wikipedia's Chinese Zodiac page is a good starting point for more information about all of the signs and their meanings.
This image is also available as cards and wall art.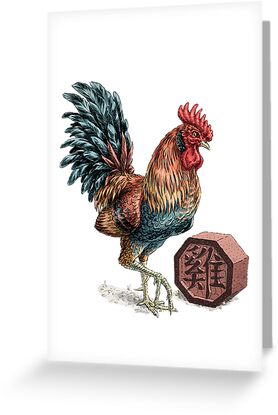 See the rest of the work in this series: Chinese Zodiac in color
Drawn with a brush-pen on bristol paper with digital color. Copyright 2009 Stephanie Smith.