This is my tribute to one of my favourite films 'Brief Encounter'. Feedback would be very much appreciated.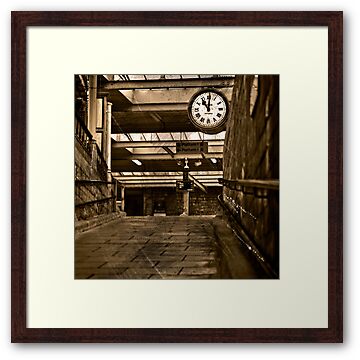 In 1945 David Lean filmed his romantic classic "Brief Encounter" starring Celia Johnson and Trevor Howard. Carnforth was chosen by the Ministry of War Transport as it was remote and safe from attack. Filming had to take place at night between 10pm and 6am so as not to interfere with daytime train operations.
Your visit would not be complete without seeing the famous Carnforth Station clock made by Joyce of Whitchurch in the late 19th century, which featured in Brief Encounter.
Carnforth Railway Station (northern England) was opened in 1846 by the Lancaster and Carlisle Railway Company and was originally just a single platform. In 1857 it became a junction and a small engine shed was built.
In 1856, a small station was built following the connection of the Furness and Midland Railway lines. A year later a new station was constructed which remained open until 1st August, 1880, when a new station was constructed at a cost of £40,000.
During the two World Wars thousands of servicemen passed through Carnforth Station en route to duty overseas.
Taken with a Nikon D300s and a Sigma 24-70 lens in manual mode.
Settings are ISO 100
Focal length 70mm
F stop 3.2
Shutter speed 1/30th sec
Post processing was done in Photoshop CS4 to recreate a nostelgic theme of 1945 and 'Brief encounter'. This was done by converting to sepia, adding a layer to darken the edges of the image using the 'elliptical marquee' tool, levels adjustments were applied to this and adding scratches and ageing effects suppied by 'Digital Photo' magazine.