The intricate glass ceiling of this building is a masterpiece in itself. The light and space of the building is fascinating, a real architectural gem. Also notice the frescoes on the high stone walls.
Named after Vittorio Emanuele II, the first king of united Italy, it was originally designed in 1861 and built by Giuseppe Mengoni between 1865 and 1877.
Top 10 – Italian Architecture challenge, Dec 09.
5211 views as of -7/07/14
The link to my own website is below:
stephenknowlesphotography.co.uk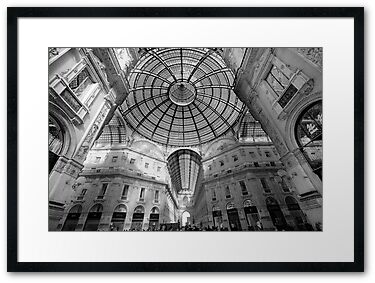 A speciality of Milan is the 19th century belle époque-style Galeria Vittorio Emanuele being the oldest shopping mall in the world. The four-story arcade houses shops, cafes and luxury boutiques including Louis Vuitton, Prada, Gucci; the famous but a bit pricey Ristorante Savini is placed on the second floor.
You can find also a McDonalds that seemed a bit out of place here. There is a special atmosphere due to the glass ceiling and the mosaic floor.
The symbols on the mosaic floor represent the capitals of the Kingdom of Italy in various periods: Milan, Turin, Florence and Rome.
A superstition, reported in every guides, says, the emblem of Turin brings good luck by rotating on it. Just look the others and you will see how it should be done, and remember that the rotation has to be clockwise, because otherwise the good luck becomes bad. It is funny and interesting, but I had never seen any local milanesi rotating there. It seems not to be a local, rather a touristic custom!
Above, the mosaics in the semicircular pedentives under the glass dome represent the "four corners of the earth": Europe, Asia, Africa, and America. They were originally frescoes, but were replaced in mosaic. The 24 statues in the Gallery represent Italian personalities, such as Leonardo, Michelangelo, Galilei, Volta etc.
Taken with a Nikon D80 and A Sigma 10/20 lens.