No.2 Dixon-Ticonderoga pencil on sketchbook paper, digitally sharpened in Aperture.
One of my favorite things about the writer H.P. Lovecraft is that he welcomed other creators to utilize his work. As a child writing my own horror stories and constantly drawing, this was a free license to use his dynamic creations and locales, and it's never really left my art.
One of my other favorite things is that, while a master of description, Lovecraft was often spare in his verbal illustration of the monsters and beings he created. It is never so much what he describes that tickles your fears; rather, it's what he doesn't. I have always interpreted this as also being a free license for writers and artists to spin from their own minds versions of his creations.
This most closely resembles Lovecraft's Mi-Go, extraterrestrial fungoid crustaceans on inscrutable missions in Lovecraft's The Whisperer in Darkness and the sonnet cycle The Fungi from Yuggoth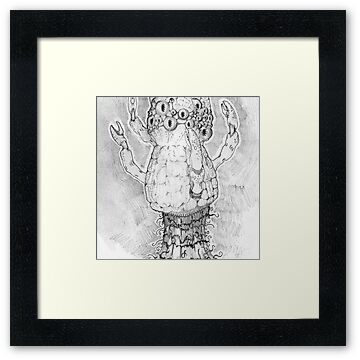 Please take a moment to review my other Lovecraft inspired work here