Oxford, England.
SpectrumCry Bubblesite
© Image Copyright Yhun Suarez
Facebook | Twitter | Flickr | FineArtAmerica | Google+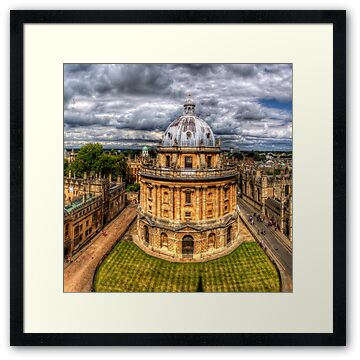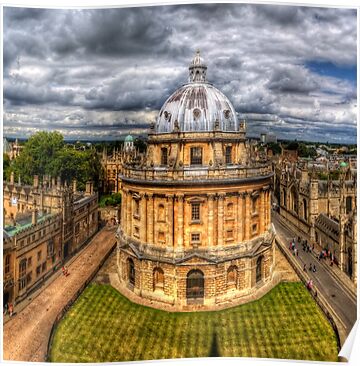 The Radcliffe Camera (colloquially, "Rad Cam"; "Radder" in 1930s slang) is a building in Oxford, England, designed by James Gibbs in the English Palladian style and built in 1737–1749 to house the Radcliffe Science Library.
The building is the earliest example in England of a circular library. It is built in three main stages externally and two stories internally, the upper one containing a gallery. The ground stage is heavily rusticated and has a series of eight pedimented projections alternating with niches. The central stage is divided into bays by coupled Corinthian columns supporting the continuous entablature. The pedimented windows stand above mezzanine openings, reflecting the interior arrangement. The top stage is a lanterned dome on an octagonal drum, with a balustraded parapet with vases.
The construction used local stone from Headington and Burford, which was then ashlar faced. The dome and cupola are covered with lead. The original plan was for a stone dome, but after building 5 ft. 8 in. of the stonework, it had to be removed and the design was changed. Inside, the original walls and dome were distempered but this was later removed, revealing the decorations to be carved in stone. Only the decorative work of the dome is plaster.
Originally, the basement was an open arched arcade with a vaulted stone ceiling, with Radcliffe's coat of arms in the centre. The arcade arches were fitted with iron grilles: three of them were gates which were closed at night, and which gave access to the library by a grand staircase. In 1863, when the building had become a reading-room of the Bodleian, the arches were glazed, a new entrance was created on the north side in place of a circular window, with stone steps leading up to the entrance.
The area around the Library was originally partly paved, partly cobbled, and partly gravelled. In 1751 stone posts and obelisks surmounted by lamps were placed around the perimeter. All but the three at the entrance to Brasenose Lane were removed around 1827 when the lawns were laid and iron railings installed. (Info Source: Wikipedia).
Nikon D60, tamron 10-24 mm lens @ 17 mm, handheld, UV filter, f/9, 1/320 sec, ISO 100.
3 RAW files tone mapped in Photomatix.
merged as panorama & adjusted in PS.