Tagbilaran City.
Bohol, Philippines.
SpectrumCry Bubblesite
© All Images Copyright Yhun Suarez
Facebook | Twitter | Flickr | FineArtAmerica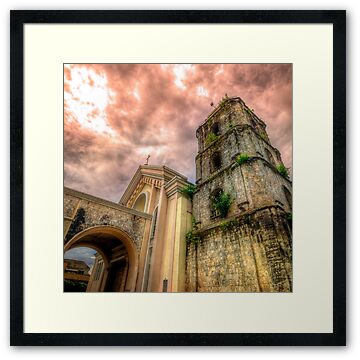 The present cathedral of Tagbilaran traces to a church built by Fr. Valero de San Pascual, OAR, while the bell tower to Fr. Jose Sanchez, OAR. The church's interior and exterior have undergone renovations. However, despite the renovations, some historic pieces still remain. The two side altars are in the 18th century Baroque style, while the central altar, decorated with symbols from the Old Testament is in the 19th century neoclassical style. The statue of St. Joseph, the patron of the church, is an 18th century vintage. The church has a good collection of ancient documents, including a fragment of an 18th century Visayan dictionary.
Near the cathedral is the Lions Children's Playground where children enjoy different playground facilities. There is also a plaza near the cathedral, which functions as the meeting place of people in the city. The plaza has been remodeled a number of times. A cement kiosk traces to the early 20th century while the mushroom-like shelters are said to have been designed by National Artist Napoleon Abueva, a native of Bohol. (Info Source: etravelpilipinas.com)
Nikon D60, tamron 10-24 mm lens @ 11 mm, handheld, cirpol filter, f/8, 1/250, ISO 100.
single RAW file tone mapped in Photomatix.
adjustments in PS.