Old Coventry Cathedral Ruins.
Coventry, England.
(7th Place out of 28 entries)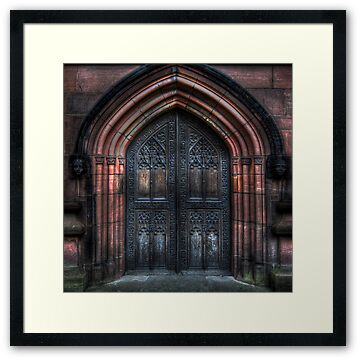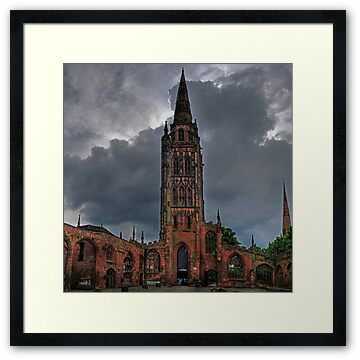 On the evening of Thursday 14th November 1940 everything changed. At around 7:10pm the air-raid siren sounded just as it had done on many occasions that year. Little did the people of Coventry suspect that this was about to become the most prolonged and devastating attack on any city in the history of warfare to date – the infamous 9 hour Blitz of 1940.
Approximately half an hour after the raid began, the first of many incendiary bombs landed on the roof of the cathedral. Provost Dick Howard and a small team of brave helpers, including the elderly 'Jock' Forbes – the Stone Mason, plus two younger men, fought hard to extinguish the many fires around the roof and inside the building. The four men spent the evening dashing around the cathedral roofs, attempting to rip open the lead with axes so that water could be poured onto the fires. The problem was exacerbated by the roof's construction – the inner wooden vaulted ceiling being separated from the wood and lead sheeting outer roof by an eighteen inch gap, inside which many incediaries rested and blazed away, out of easy reach by the fire fighters.
As the number of incendiaries landing on the old roof increased, the fires became harder to tackle by the small team. Even when the Solihull Fire Brigade made it through to the cathedral a while later, the hoses soon became damaged, and water supplies dried up. With water mains around the city getting fractured there was little hope of fighting back the flames. By around 11pm, all the St. Michael's fire fighters could do was remove as many items of value as they could from the blazing building, and retire to safety, leaving the uncontrollable flames to consume the once great structure.
The next morning, all that remained was a shell full of rubble, and of course, the tower and spire. Provost Howard noted later that he still noticed a sense of beauty in the fallen masonry, as though the actual piles of rubble posessed something living. (Source: historiccoventry.co.uk)
Nikon D60, 18-55 mm lens, handheld, f/9, 1/320, ISO 100, focal length 18 mm, no flash.
3 vertical exposures stitched together in Autopano.
single panoramic file converted to 3 exposures in PS.
tone mapped in Photomatix.
brightness & contrast adjustments in PS.