Please feel free to visit my website for more examples of my work .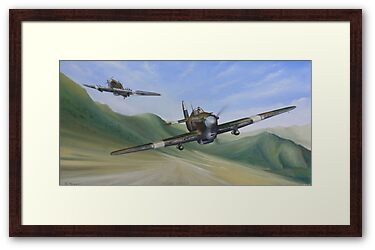 Original sketch idea for the painting.
Oil Painting on Canvas 100cm x 50cm
The largest land battle in the Asian theatre The Battle of the Imphal Plain occurred in March/April of 1944. The Japanese attacked from Burma directly toward Imphal. To the north, the small mountain village of Kohima was attacked by the Japanese 31st division, numbering 15 000 men. The village was defended by approximately 3000 men including the 4th battalion of the Royal West Kents. For
2 weeks battles raged in and around the residence of the British Deputy Commissioner. The defenders were hammered mercilessly. 34 squadron were moved to Dergaon, Assam to provide quicker ground support for the troops. The squadron flew bombing and strafing missions every day, sometimes twice a day, attacking the Japanese positions around Kohima throughout the two week battle. The village was nestled between two mountain ridges, which meant the pilots would have to run a gauntlet of small arms and light anti-aircraft fire while making their strafing and bombing runs. On the 18th of April, 1944
Jimmy was leading 6 of the squadrons Hurri-Bombers on a sortie to relieve the defenders of Kohima. As he entered the area of the Rifle range he and his wingman F/Sgt. Jack Morton ran into very heavy light arms fire: We were flying from Dergaon when Jimmy was killed. He led six Hurricanes on an attack on the Rifle Range and I was his No. 2. We bombed in Sections of two and
Jimmy and I were first in bombing with two 250lb. Bombs with 11 second delays fitted. I was slightly behind Jimmy and we dropped our bombs at about 50 feet and as we left the target area Jimmy's plane did a barrel roll and crashed. It
was a very sad day on the Squadron because he was by far the most popular officer and pilot in both the Officers and Sergeants Mess. We carried out two more attacks that day and on both occasions we looked for his plane but there was nothing to be seen in the dense jungle. (As written in a letter by Jack Morton, April 2000)
For his actions with the Squadron Jimmy was awarded the Distinguished Flying Cross. He is buried, with the other defenders of Kohima, at the Kohima Commonwealth Military Cemetery.
The Hurricane seen here is in the markings of Whalens aeroplane from 34 Sqdn, this colour scheme will be worn by the BBMF's Hurri next season – PZ865.
718 views